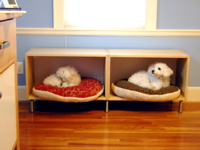 A little more work on the kitchen this weekend. I installed the molding strips under our wall cabinets (check the master kitchen renovation photoset, starting here, for the details), which was slightly more complicated than I expected. Cutting and mitering the strips was a cinch thanks to my miter saw, but I had to shape them around the molding strip on the back wall (visible in this photo) and that took a little longer. Fortunately the jigsaw made relatively quick work of that step, and I was able to get clean cuts along my rough penciled cut out lines.
The final step, mounting them, also proved challenging. We bought the molding strips upwards of three months ago, and I could only locate hardware for one set of molding—not nearly enough L-brackets to finish the job. (Note: for some reason, the molding strips I got did not include hardware in the box, but apparently the newer ones do). So I made a run down to Stoughton (where we needed some other things anyway) and got the returns department to give me eight of the brackets I needed to finish the job. The nearly final product (still awaiting caulking) is in the photoset, along with two filler panels at the end of the cabinet run. (That part gave me fits until I figured out that I could simply use construction adhesive to connect the filler panel to the cabinets.)
Along the way I found time to have a little fun for our dogs. We got two 27 inch long Värde wall cabinets from IKEA which were originally intended to form part of a butler's pantry, but we didn't like the way they looked. Fortunately, Lisa had a brainwave and suggested we take the doors off and put beds in. Originally we tried doing this with the cabinets stacked atop each other, but fortunately for all concerned we figured out a bench layout would be best. So I connected the two cabinets together with four of the connecting screws that IKEA thoughtfully provides in just about every box, put six Capita legs underneath, and slid some spare beds inside. The dogs seem to like it, as evidenced by the photos. The final step will be to cut up the butcher-block countertop that is currently temporarily resting on part of our cabinets and screw it on top of the bench as a seating surface—probably with a cushion. Maybe when that step is completed I'll send this into the IKEA Hacker Blog.