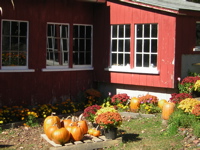 Lisa and I took time off work yesterday to recuperate from the past few weeks (she had a product launch last week). We drove west along Rt 2 to see what the leaves looked like. It was a little early still but nice, as the photos hopefully show.
Our stops included the French King Bridge and Gould's Sugar House. While the former was mostly a sightseeing post—one of the few along the road—the latter had pancakes. And syrup. And really, after a morning driving along the leaves, what more could one ask? Well, among other things, a tractor called "Lord," apparently.
In addition to lunch, we picked up a few things from the sugarhouse, including both Grade A and Grade B syrup. (For the uninitiated, Grade A is thought of as "table syrup," and generally runs lighter in color, but to my mind Grade B is more interesting. It's produced at the very end of the sap run, and can have a really spectacular, slightly spicy flavor.) Between that and the 25-cent maple-syrup flavored soft serve ice cream, we were pretty well sugared up for the drive back.