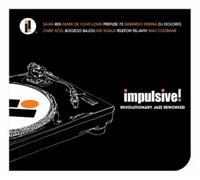 Remix albums aren't normally my thing; generally I end up wishing the remixers had left well enough alone. The exception to my rule has been Verve's excellent Verve Remixed series, which has treated the source material—killer jazz cuts from Verve's deep vault—with respect while shining a fresh new eye on the performances. Now the same treatment has been applied to works from Impulse!, the revolutionary jazz label that Verve started managing when Polygram and Universal came together, and the results are consistently mindbending.
It helps that the Impulse! catalog is so good. It's sometimes known as the House that Trane Built, after John Coltrane, its most famous musician, who recorded some of his most famous albums for the label. But you won't find remixes of A Love Supreme on the disc—Coltrane's sole appearance is on the album's last, and only non-remixed track, a beautiful reading of a poem that Coltrane wrote with musical accompaniment from his son Ravi Coltrane on sax. The album focuses less on the avant garde perspective that Trane brought, staying instead with the more melodic contributions of artists like Charles Mingus, Dizzy Gillespie, Archie Shepp, Yusef Lateef, Oliver Nelson, and Pharoah Sanders. There's a fair amount of Latin jazz on here as well, both through Diz's influence (he contributes an Afro-Cuban "Swing Low, Sweet Cadillac" that is nicely swung by remixer DJ Gerardo Frisina) and through artists like Chico O'Farrill (playing with Clark Terry).
But it's hard to buttonhole a collection that crosses genres this exuberantly—one freewheels from Diz's "I looked over Jordan and what did I see/an Eldorado comin' after me" to a searing remix of Archie Shepp's "Attica Blues" by The Chief Xcel of Blackalicious, a trance-inducing take on Pharoah Sanders's "Astral Traveling" by Boozoo Bajou, and—my personal favorite—a sublime reimagining of Oliver Nelson's great "Stolen Moments" by Telefon Tel-Aviv. I've always loved the latter composition—the absolutely iconic melody, the group performance by a first-rate horn line—and thought it a shame that the only contemporary reimagining was the version that United Future Organization did for the Red Hot + Cool compilation a few years back, which to my ears was chirpy and a little soulless. Telefon Tel-Aviv deftly redresses this wrong by re-envisioning the work as an orchestral masterpiece heard through a distant radio station, with strings tuning up and then faintly carrying the famous lines through static and synths. It's the highlight of a generally excellent collection.
Originally posted at Blogcritics.