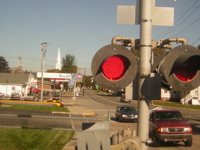 Pictures from the train ride last Sunday. Every time I take the train down to see my in-laws, I think, "I should have brought my camera." This time I did, and took mostly very blurry photos of things passing by outside. But I got a few good ones, I think.
The leaves haven't quite turned on our street, or much of anywhere; the weather has been too weird for autumn to do its magic. But fortunately there was a bit of good foliage along the way.
I did think that the regional train left something to be desired compared to the Acela in terms of comfort, but it got me there on time.