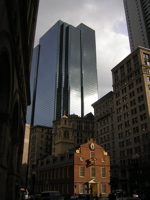 It's been a while since I posted photos, but the cameras haven't been idle. I've been keeping in practice both with the Nikon and the phonecam (since I don't always remember to keep the Nikon handy). Check out this highlights series, featuring my voting booth photo, the first snow, a cold afternoon at Downtown Crossing and Government Center, an extremely windy stroll around the Common and Beacon Hill, and a skip around the Harvard campus and in the Fogg Museum.
The phonecam photos here are attempts to adhere to my new phonecam rules, which I made up over the last week. Phonecams are, I believe, good for the following three kinds of shots:
Large blocks of color. This example, like my winning phonecam shot, is mostly interesting because of the intense color saturation of the shot.
Extreme close-ups. (In this shot and others, I like finding out what statues in museums are looking at.)
Capturing events where no other camera can go. So far, this polling booth shot is my only example in this genre, but it's probably the most intriguing possibility of the three.
I am obviously still exploring the technology and having fun playing around with it, so I'm sure I'll find other kinds of images.
This posting is a two-fer; the photo to the right is also my LensDay entry for the "modernity" challenge.