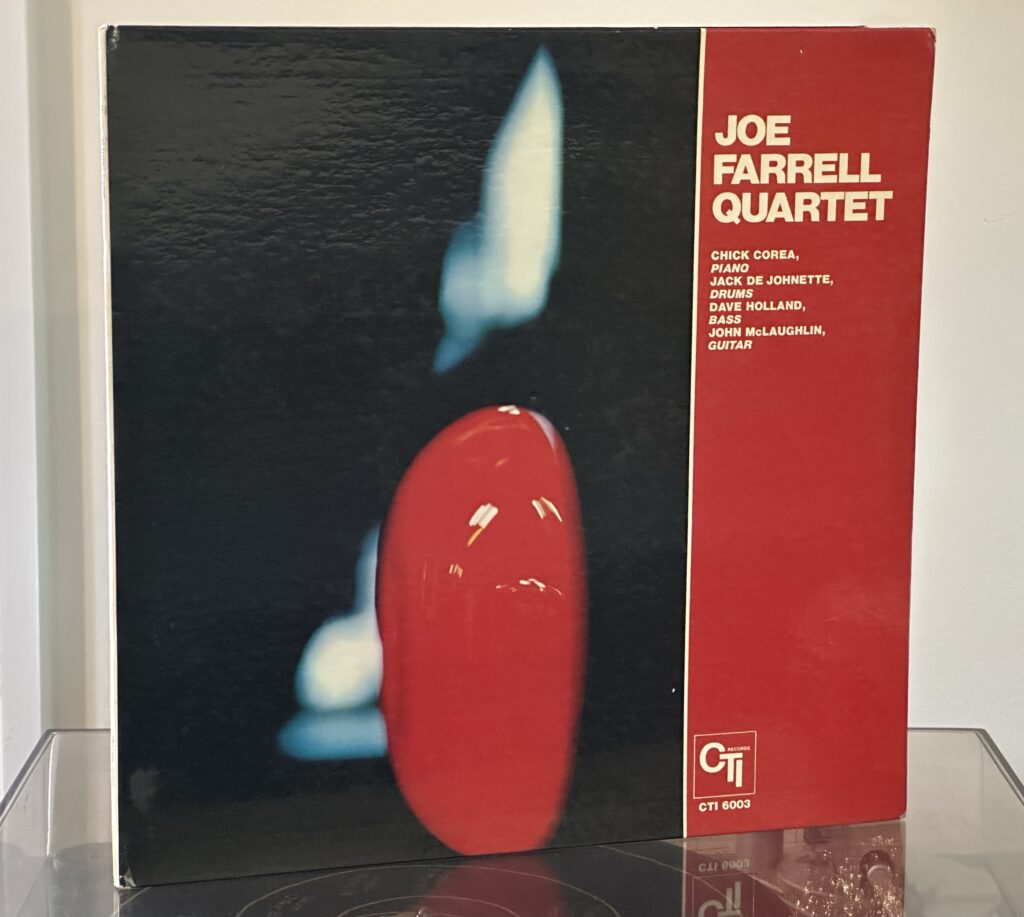 Album of the Week, April 15, 2023
While we've heard a few different musical styles on our tour of CTI Records' catalog so far, most of the bandleaders have been established musical names. Today's record shows that not only could Creed Taylor boost the careers of already-well-known musicians, but he could also give a start to lesser-known musicians.
Joe Farrell (born Joseph Carl Firrantello in 1937) got his start as a twenty-year-old saxophonist in the Ralph Materie band and went on to record with a number of bands and small groups during the 1960s, most notably with Charles Mingus and Andrew Hill. His breakthrough during the late 1960s came when Elvin Jones, following John Coltrane's death, formed a trio with Farrell and Jimmy Garrison; the trio recorded Puttin' It Together and The Ultimate for Blue Note Records.
But Farrell is perhaps best known for his work with Chick Corea and his Return to Forever band, most notably recording the flute solo on "Spain" on Corea's 1973 album Light As A Feather. On this recording, only the fourth to be released on CTI, we catch the partnership close to its beginning, with Farrell and Corea joined by frequent Corea collaborator Dave Holland on bass and the redoubtable Jack DeJohnette on drums. That the band is joined by fellow electric-period Miles associate John McLaughlin on two tracks would tend to suggest a certain direction for the sound of the album, and you'd be partly right.
Indeed, the opening track, "Follow Your Heart," is a tasty post-Bitches Brew fusion classic, written by McLaughlin and powered by his guitar and DeJohnette's drums, with Holland's bass line providing a consistent heartbeat. Farrell begins with a statement of the tune and then slowly deconstructs it, in a solo augmented in its final verse with some light but noticeable reverb. McLaughlin's solo follows Farrell's lead, playing around the tune in two- and three-note groupings, again with the reverb, which Taylor seems to add expressly for the purpose of thumbing his nose at acoustic music purists.
"Collage for Polly" is a much more experimental track that, for two minutes, layers echoing washes of flute and saxophone sound over sound effects from Corea, Holland and DeJohnette. It starts out in the same vein as some of the more experimental tracks on Weather Report but spins out into a more unstructured jam, leaving one slightly relieved when it's over.
"Circle in the Square," conversely, would have been at home on most of Miles' Second Great Quintet albums. Beginning with a repeated descending theme in the bass by Holland, A McCoy Tyner-esque statement of theme is followed by a Farrell solo on soprano saxophone over a free workout by Corea and DeJohnette that increases in intensity and ferocity throughout. The track underscores Farrell's affinity for Coltrane-like modal workouts and is a slow burn.
"Molten Glass" switches gears as it opens the second side to a piano-and-bass driven melody, over which Farrell's flute travels fluidly. Though the work is a Farrell original, it bears some affinity to Corea's "Windows," as memorably recorded in a group with the great Hubert Laws on flute (about whom, more later). It's a sunny little workout and genuinely fun to listen to.
This track also gives us the concept for the cover, and we really should talk about the cover. The quiet black Helvetica on white background of the early CTI records that we've seen is well and truly gone, in favor of evocative, highly saturated photography (in this case, red glass apparently fresh out of the furnace). We'll see a lot more of this, in less abstract ways, in the next few weeks.
The next track, "Alter Ego," brings us back to the same concept as "Collage for Polly" — lots of reverb-y flute over a Dave Holland bass line. Points for experimentation but I wouldn't call this track essential. By contrast, "Song of the Wind" is another duo track, this time with Chick Corea. Here the song sounds like a Chick composition because it is a Chick composition, but Farrell's opening soprano sax solo and mid-tune flute solo are gorgeously meditative.
"Motion" wraps up the album with another full group (plus McLaughlin) workout that takes us solidly into free jazz territory. Here McLaughlin's guitar chirps and groans over a screaming soprano line from Farrell and absolute chaos in the rhythm section: lots of high octaves in the piano contrasted against screaming arco bass and the most explosive drumming from DeJohnette of the record. It all ends with a descending glissando scraping the strings of the guitar. As free jazz workouts go, it's invigorating in execution, if a little lightweight in concept.
This first album from Joe Farrell sees him staking a distinct corner that explores aspects of fusion, free jazz, and experimental noise making. Some aspects of those elements will follow him into his next albums for CTI, but first we'll dive straight back into soul-jazz and the surprising career evolution of another Blue Note Records alumnus.
You can listen to the album here: