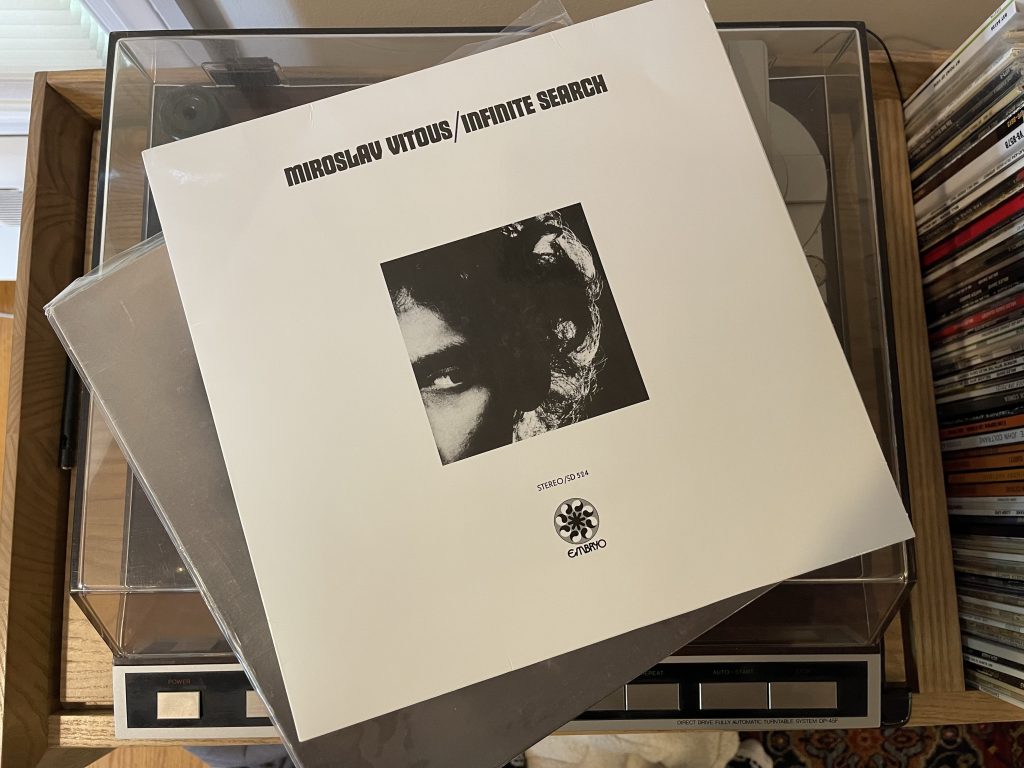 Album of the Week, September 10, 2022
We've been spending a lot of time with the members of Miles' different groups in this thread. At first glance, the debut solo album of the Czech bassist Miroslav Vitouš would seem an odd fit. But there are a few reasons it's the album of the week this week: there is substantial overlap with Miles' sidemen, and because of what is coming next.
For his debut album on Embryo Records, Vitouš assembled an impressive list of musicians: Joe Henderson on tenor sax, John McLaughlin on guitar, Herbie Hancock on electric piano, and Jack DeJohnette on drums (all except the last track, where Joe Chambers fills in). The recording was made October 8, 1969, several months after the Wayne Shorter sessions for Super Nova, on which McLaughlin and DeJohnette both played. But the sound they produce here, absent Shorter's soprano saxophone, is very different. I should say sounds, because each of the six tracks on the album inhabits a different soundscape.
We've already heard Miles' take on "Freedom Jazz Dance," on his Miles Smiles. Here, after the introduction by the full band, Vitouš takes an extended bass solo accompanied only by DeJohnette, with interjections by McLaughlin on guitar. A solo by Herbie Hancock follows, with the chiming Fender sound climbing up into the upper octaves, followed by McLaughlin's solo, over an increasingly frantic rhythm section. When Henderson enters, Hancock and McLaughlin drop out and the frenetic energy lessens, but only slightly before he takes his own frantic turn. Closing out with the theme, Vitouš and Hancock turn the reprise into an extended coda.
"Mountain in the Clouds" foregrounds Vitouš and DeJohnette in a short fragment of a composition, as if to assert the bass's primacy as a melodic instrument. It works, but is so brief the tune never fully develops.
"When Face Gets Pale" is another bass-led melody with chordal support from Hancock entwined by McLaughlin's twisting guitar lines. The composition circles the same chord progression over and over again, creating a meditative mood.
"Infinite Search" is the track on the album that feels closest to what we've heard before. Here the dominant tone is Herbie Hancock's Fender Rhodes, in duet with Vitouš's deep bass lines. Together they produce music that reaches both up to the heavens on clouds of Echoplexed reverb and down deep into the earth, grounded by the deep roots of the bass and supported by a two note repeated figure as a ground throughout. The composition wouldn't have been out of place on Water Babies, and is insistently memorable.
"I Will Tell Him On You" is introduced by a theme by Henderson in diffuse clouds of chords from Hancock, which is then elaborated by Vitouš before Henderson returns in a swirling solo, using a technique that he returned to throughout his recording career. If Coltrane had "sheets of sound," rapidly descending arpeggios, Henderson had whirlpools of sound that circled the tonal center. This effect can be heard to good effect here. McLaughlin follows, neatly mimicking Henderson's technique before adding flourishes and bent notes that claim the ground as his own. Herbie's piano solo elaborates the theme with the chiming upper octaves of the Fender before DeJohnette takes a crashing, rolling drum solo. The reprise is followed by a coda by McLaughlin and Hancock. It's a bracing performance.
"Epilogue" is opened by an extended bass solo from Vitouš, supported by Hancock and a bed of chimes and drums. The mood continues through a solo by Hancock, never losing the mystery, until it disappears into a cloud of chimes.
So with his first solo album, Vitouš demonstrated his compatibility with the players in Miles' orbit who were moving fusion forward, while also proving his own voice. Next time we'll hear another musician claiming his own leading role in the new sound.
You can listen to Infinite Search here: