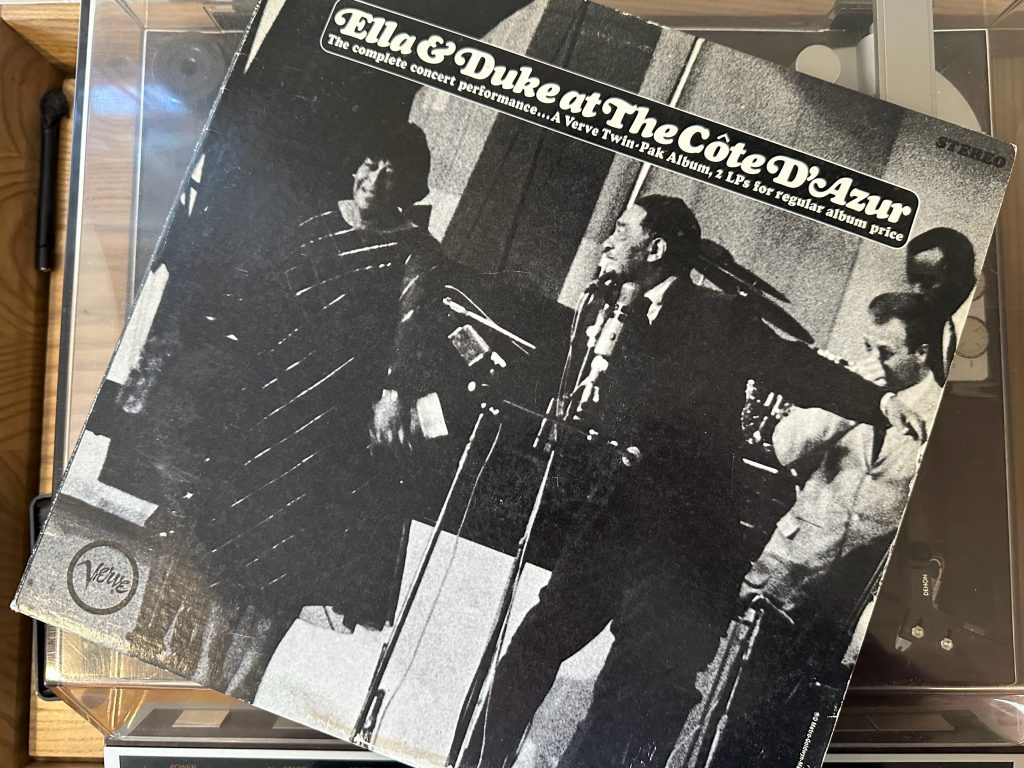 Album of the Week, November 26, 2022
Duke Ellington, in 1967, was in the prime of his post-peak creative years. Having spent some time between labels building his reputation as an elder statesman, as we saw last week with Duke Ellington & John Coltrane, he was shortlisted for a Pulitzer Prize in Music in 1965 (though ironically no award was given that year; he is said to have joked "Fate doesn't want me to be famous too young"). He was still recording major works, including the Far East Suite in 1966. And he was touring and performing with dozens of other musicians. I've reviewed a record from that period, when he performed with the Boston Pops; see my write up of The Duke at Tanglewood, which I found ultimately dissatisfying due to the lack of simpatico between Ellington and his competent, yet square, stage-mates.
No such problem exists between the performers in today's recording. Ella & Duke at the Côte d'Azur feels as though it ought to have been a bootleg due to the electricity of the crowd energy that's captured and that clearly infects the performers. It is, in a word, jumpin'.
Ella and Duke had recorded several times together by the time this recording was made in 1966, starting in 1957 when she collaborated with Ellington on Ella Fitzgerald Sings the Duke Ellington Song Book. Part of her great Song Book series in which she elevated the work of American songwriters from Tin Pan Alley to canon, this was the only record in which she performed with the songwriter himself. She had also recorded Ella at Duke's Place in the studio in 1965, and The Stockholm Concert, 1966 was cut earlier the same summer that the two met at the International Festival of Jazz for a series of concerts. The double LP here is apparently only a taste of the combined performances; together they recorded some 80-plus tracks, which eventually saw release in an 8 CD Verve set in 1998 as the Côte d'Azur Concerts.
What's striking is how much fun Ella, in particular, seems to be having. She gets a full two choruses into "Mack the Knife" before she starts scatting and improvising over the band. According to the liner notes, there was no arrangement for the tune—they just started playing, and it's audible in the music as it goes through multiple key changes. At one point, Ella sings "We're making a record of the same old song… we swung old Mackie down for you people here at the Jazz Festival! We're going to sing, we're going to swing, we're going to add one more chorus!" And she adds another two choruses, then a third, going up a half step in between each one. You can hear the socks of the crowd being blown off.
While Ella and Duke play together on the first track, many of the remaining numbers are played only by one group or the other, starting with Ellington's usual group—Paul Gonsalves, Cat Anderson, Harry Carney, Ray Nance, Johnny Hodges, Mercer Ellington, Buster Cooper, Sam Woodyard, etc.— on "The Old Circus Train Turn-Around Blues." The liner notes call out the tune's similarity to "Night Train," but it's a fun enough romp nonetheless.
Ella's group takes the stage next. She's backed by the Jimmy Jones piano trio featuring Jim Hughart on bass and the mighty Grady Tate on drums. Her "Lullaby of Birdland" is not very lullaby-like, but it's delightful nonetheless. This is followed by Ellington's group, with Ellington announcing, "Buster Cooper will be the virtuosoist in 'Trombonio-Bustiosso-Issimo.'" Cooper is hot indeed in the solo, with the band lighting a fire underneath him.
Ella's group switches things up a bit with "Goin' Out of My Head," the newest composition on the record and a reminder of her late-sixties pop work on albums like her 1969 Ella. But if the tune sounds a little dated to modern ears, she gives it her all here. Ella never really belts on her records, but she certainly comes close on this one. Grady Tate provides a slightly samba-inflected beat behind the tune, swinging back into a rock beat in the chorus and keeping things lively throughout. She continues with "How Long Has This Been Going On?," singing the Gershwin standard with nuance and subtlety and taking us into a different world for an all too brief moment.
Ellington's band returns for a medley of "Diminuendo in Blue/Blow by Blow," with Ellington growling and shouting encouragement to his players above the fray. Paul Gonsalves reprises an abbreviated version of his infinite solo from the famed Newport 1956 concerts. Next the band begins a performance of "It Don't Mean a Thing (If It Ain't Got That Swing" that has the crowd applauding from the first chords of the tune, and Ella joins them in, breaking up as Ellington shouts inaudible encouragement from the piano. After a few verses and some spectacular scatting from Ella, another from Ellington's band steps up and trades scat bars with her. But Ella cannot be imitated or brushed off, and she carries the rest of the song, dropping in a reference to "A Hard Day's Night" before driving the song to closure. The Ellington band concludes this set with "All Too Soon," providing Ray Nance an opportunity to show off his violin playing together with Ben Webster and Buster Cooper. There's no showboating here, just solid solos from all three protagonists.
Ella's band returns with settings of "Misty" and "So Danço Samba," called "Jazz Samba" on the original label but corrected on my copy. "Misty" is played straight and sensitively, with a closing straight out of the Sarah Vaughan playbook, but "So Danço Samba" is something else again. Combining a sensitive approach to the Brazilian original with interspersed scatting, a touch of "The Girl from Ipanema," and ending with a whispered beat-box of a vocal solo that has her trading percussive licks with Grady Tate before she takes a resurgent and triumphant sung conclusion, she cracks up the band and takes the crowd by storm.
The Ellington band returns with a request, a "totally unprepared, unrehearsed, no arrangement" version of "Rose of the Rio Grande." Buster Cooper takes the solo on his trombone, duetting with Sam Woodyard's bass in a brief interlude and closing the whole work out in a roaring crescendo. Ella's band then takes over with an achingly tender "The More I See You" before yielding again to Ellington for "The Matador (El Viti)." Ella rejoins Duke for a final performance of "Just Squeeze Me (But Please Don't Tease Me)," where she trades scat syllables and bluesy growls with the great pianist and trades verses with Ben Webster, and finally addresses the audience, "You've made us sentimental, the way you received our show/We'd love to squeeze you, really don't want to tease you." The audience returns the expressed affection with a roar of applause, bringing the set to an end.
This brings our series on Duke Ellington to a fitting close, as I've run out of vinyl with his compositions. We've heard many different sides of the man: the innovative composer, the bandleader who played the orchestra like a piano, the sensitive, intuitive collaborator, and finally the master showman. There's a lot more Ellington to explore, but the calendar is turning. Next week we'll be exploring something very different.
You can listen to the album here: