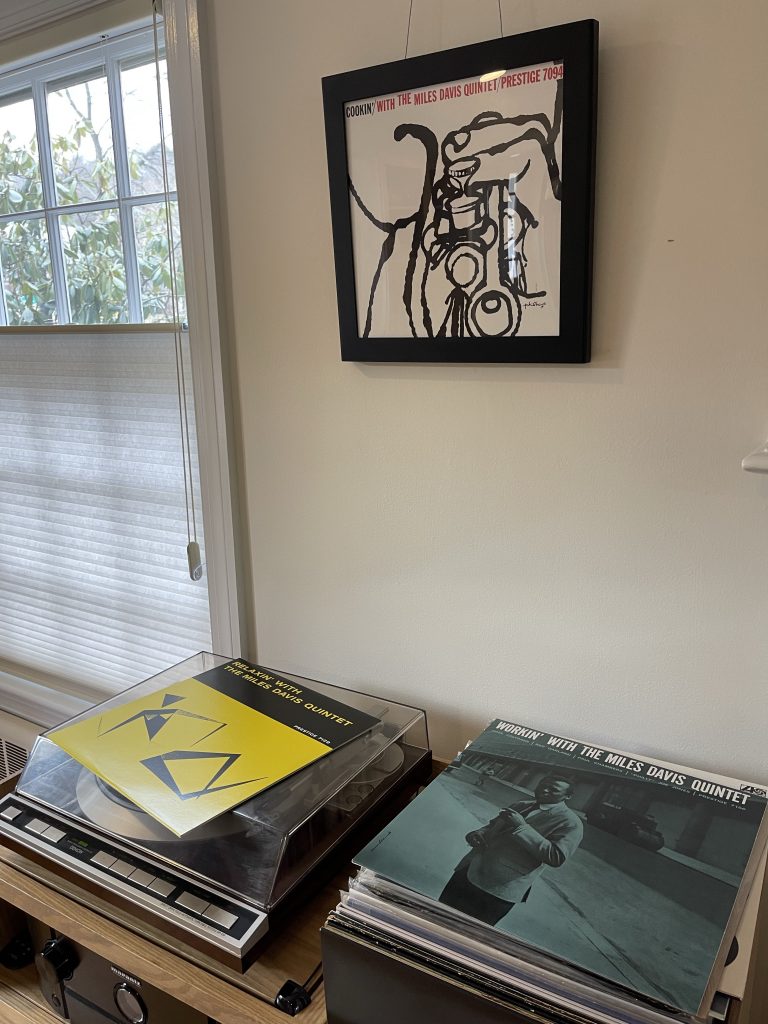 Album of the week, February 19, 2022.
For this week's installment of #albumoftheweek, we continue driving through Miles Davis' early albums. Last week saw Miles' early work for Prestige, with a band that featured a young Sonny Rollins in one of his earliest recordings. But it wasn't a Miles Davis group; the players came together in the studio but hadn't spent months together on the road. Miles was in bad shape; hooked on heroin, needing fees from recording sessions to buy the drugs. He was not a top-shelf artist.
Then, in 1955, after spending a few years kicking the drugs, returning to New York, and recording several pivotal albums for Blue Note Records, he played at the Newport Jazz Festival in a group with Gerry Mulligan, Thelonious Monk, Percy Heath, Connie Kay and Zoot Sims. His performance wowed the critics and the record-buying public alike, as well as George Avakian of Columbia Records, who wanted to sign him. The only problem? Miles still had a year left on his contract with Prestige, and owed them four albums to boot.
Miles addressed the problem with aplomb. He negotiated in his contract with Avakian that Columbia wouldn't release any recordings he made for them until his contract with Prestige expired. He then entered the studio with a group formed at Avakian's suggestion and with whom he had recently played a string of dates at Cafe Bohemia: the Miles Davis Quintet. The original membership of the quintet included pianist Red Garland, bassist Paul Chambers, drummer Philly Joe Jones, and tenor sax Sonny Rollins. But Rollins was struggling with his own heroin addiction, and Miles fired him and replaced him with another great young tenor player (and heroin addict): John Coltrane. With Trane on board, the group later known as the First Great Quintet was complete.
The chronology of Miles' recordings in late 1955 through 1956, as he played out his commitment to Prestige, is a little confusing. The Quintet first entered the Columbia studio in October to record Round About Midnight, then three weeks later was in Rudy Van Gelder's studio in Hackensack recording The New Miles Davis Quintet. Legendarily, Miles had to pay for the next sessions in the Van Gelder studio out of his own pocket; he returned with the Quintet in May 1956, in between recording dates with Columbia for Miles Ahead, and knocked out material that would end up on three of his last four albums for Prestige. The Quintet returned to Hackensack one last time, on October 26, 1956, to record more material with Van Gelder, including all the tracks on Cookin'.
Perhaps because of the constraints of the session time, perhaps because Miles' attention was on the more complex sessions for Columbia, the Prestige sessions are relaxed, feature familiar jazz standards straightforwardly played, and for all intents and purposes "live" in the studio. That is not to call them simple or mediocre. On the contrary, Cookin' in particular, especially its opening performance of "My Funny Valentine" and the second-side opener "Airegin," rank among the greatest numbers Miles ever recorded.
What is it about these performances? Simply put, they show a group that was capable of listening closely to each other, improvising collectively in unusual ways, and expressing subtlety and hard bop in equal measures. The First Great Quintet had range, from Miles' cool playing to Coltrane's fire, Garland's melodic chords, Philly Joe Jones' power, and the incredible versatility of Chambers' bass, both pizzicato and arco (bowed). (Chambers is featured in one of my Exfiltration Radio sessions from a while ago.) And perhaps because the sessions were recorded quickly, they are unfussy, unforced, and genuinely fun to listen to.
My copies of these albums are modern repressings, nothing too fancy to write home about, but there is still a joy in listening to the sound leap off the vinyl. Red Garland's opening piano melody on Side One caused my sleeping dog to wake up and perk up his ears, but Jones' brushwork on "When Lights Are Low" settled him right down again. We'll listen to more from these sessions next time.