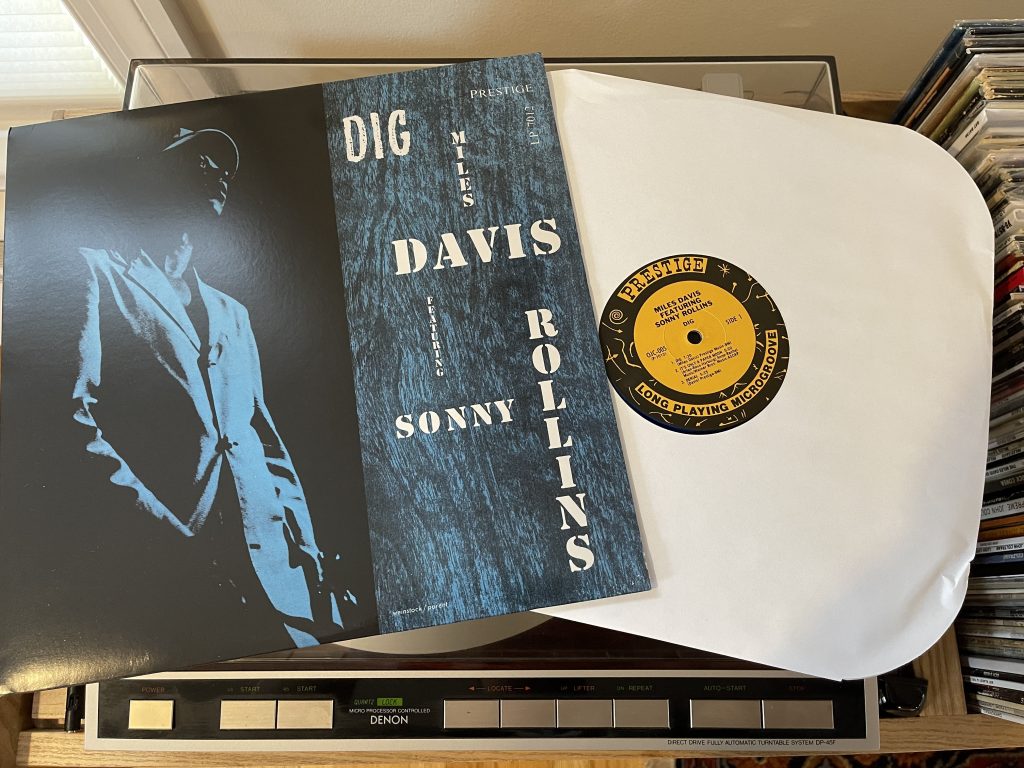 Album of the week, February 12, 2022.
We're going to be featuring a lot of Miles Davis over the next while here on #albumoftheweek, so strap in!
Today we're talking about Dig, which is credited to Miles Davis Featuring Sonny Rollins. I dig Dig — partly for what it is, partly for what it isn't.
Miles recorded these sessions, which also included two numbers that showed up on the Prestige Records compilation Conception, on October 5, 1951, and they were among the earliest music he released on Prestige. The music wasn't originally released on a 12" LP, though; it originally came out on two 10" LPs, The New Sound and Blue Period. Thus, this music includes Miles' first tracks on an LP as a leader (the Birth of the Cool sessions, featuring Davis' nonet with arranger Gil Evans, wouldn't be released in compiled form until 1957), and his first full album as a leader for Prestige. It also happens to be Jackie McLean's jazz recording debut.
It's also, perhaps more contentiously, the first album to feature Miles' "first quintet" sound, though it isn't actually a First Quintet album. The players—McLean and Rollins on saxophones, Walter Bishop Jr. on piano, Tommy Potter on bass, and Art Blakey on drums—have no overlap with the personnel of the group that Miles assembled for Prestige later in the decade. But the hallmarks of the classic "hard bop" sound are all there, including Miles' relatively open chordal voicings and tempi that were less "cool" than his nonet material but also more relaxed than his earliest recordings with Charlie Parker. Put simply, it just sounds like Miles. And it sounds great.
Unfortunately, the sessions were also recorded while Miles was in the throes of his addiction to heroin, so he wouldn't maintain the high standard of performance on this record for long. Several uneven records for Prestige followed, and he would even turn to pimping during the next few years, all to make money for his drug habit. He wouldn't turn to greatness until he left New York for St. Louis and Detroit in 1953, kicked heroin, and found a different way to approach the music. We'll see the fruit of that approach next time.
My copy of this album is a 2015 mono repressing on translucent blue vinyl, bought at Newbury Comics. I was relatively new to buying records at the time and didn't realize that the translucent vinyl meant that the optical sensor on my Denon turntable, which tries to automatically select 33 1/3 or 45 RPM based on the size of the record on the turntable, would get confused and refuse to play! I now have a slipmat that eliminates the problem by covering the sensor in the platter, since translucent vinyl is, for better or worse, a common feature of 21st century repressings…