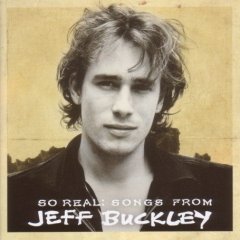 Today marks the 10th anniversary of the disappearance of Jeff Buckley into the Mississippi River, and into legend. At the time, the death of the 30-year-old singer felt like a body blow, and ten years haven't dulled the impact; if anything, the feeling of cosmic unfairness has deepened over the years. So the new anthology So Real: Songs from Jeff Buckley comes at a time where many of us were pondering Jeff's legacy anyway, and it is that rarest of things, a greatest hits that illuminates and surprises rather than simply summing up. There is no way that I can write a review that does justice to this in a linear way; there are too many connections striving to be made. I will include these as asides throughout the review.
Number of Jeff Buckley albums and EPs released in his lifetime: 2
Number of albums, EPs, live albums, DVDs, greatest hits compilations, box sets, and deluxe editions released after his death: 7
The compilers of the collection, Mary Guibert (Jeff's mother) and Tom Burleigh, had a challenge: How do you do a greatest hits album for an artist who only had one album before his untimely death? They chose an unconventional path: include half the debut album, Grace, together with selected b-sides, studio work released posthumously, and released and unreleased live recordings. It could have sounded like a shambles; it's a testament to Jeff's artistic brilliance and consistency that it sounds like a coherent whole.
In one form or another, eight of the ten songs that formed Grace are on this disc, four in their studio version ("Last Goodbye," "Lover, You Should've Come Over," "Grace," "Hallelujah"). The compilers chose alternate versions (that previously appeared on the Grace Legacy Edition of a few years ago) for "Eternal Life" and "Dream Brother," a live version of "So Real" that was previously only available on a promo single, and the hypnotic version of "Mojo Pin" from Live at Sin-É. From Buckley's posthumous Sketches for My Sweetheart, the Drunk, we get "The Sky is a Landfill" and the sultry "Everybody Here Wants You," and the driving "Vancouver." The delicate "Je N'en Connais Pas La Fin" (also from Sin-É) also appears as a bridge to the closing three songs.
Brilliant collaborations left off the album: "Fireflies" and "Southern Cross" with Patti Smith, "Faith Salons" with Brenda Kahn, "All Flowers (in Time Bend Toward the Sun)" with Elizabeth Fraser, "I Want Someone Badly" with Shudder to Think
Never-heard collaborations and covers mentioned in the liner notes: "Kashmir," "Shombalor," "Cobra" (John Zorn cover with Mike Doughty)
The remaining two songs are where this collection sets itself apart from a "greatest hits" mentality into the realm of the fan compilation. "Forget Her," a Grace-era b-side that also appeared on the Legacy Edition, has long been one of my favorite Jeff Buckley songs. A straight-driving impassioned blues with little of the Middle Eastern meets Zeppelin flavor of his debut, it has the dual distinction of being more singable and more direct than most of his early output, presaging the slow jam of "Everybody Here Wants You" and other late tracks.
Age of Jeff Buckley on May 29, 1997 when he drowned: 30
Age of Tim Buckley, Jeff's father, when he died of a drug overdose on June 28, 1975: 28
The final track, a never-before-heard live performance of the Smiths' "I Know It's Over," wraps the compilation in the mystery of Jeff Buckley's passing, what Mike Doughty calls in the liner notes his "effortless ability to become a myth, a legend." Where the Mystery White Boy live recording included "I Know It's Over" in medley with "Hallelujah," here that striking first lyric, the finest line that Morrissey ever wrote for Jeff Buckley, stands on its own and makes you catch your breath with the unfairness of it. Because the rest of the collection is a testament to his brilliance and range as an artist, performer, and songwriter, the ending hurts all the more ten years on. At least we have more to remember him by now than we did then.
Lyrics in Jeff Buckley originals and covers that presage his death by drowning:

"This body will never be safe from harm" ("Mojo Pin")
"As their shoes fill up with water" ("Lover, You Should Have Come Over"
"Asleep in the sand with the ocean rushing over" ("Dream Brother")
"Just like the ocean, always in love with the moon/It's overflowing" ("Opened Once")
"Stay with me under these waves tonight" ("Nightmares by the Sea")
"Mother, I can feel the soil falling over my head" ("I Know It's Over")
Buckley fans are nothing if not opinionated. So Real comes close to meeting my high standards for a single-disc compilation, though there are a few changes I'd make–as a fan, I'll always want more rarities. What would your greatest hits of Jeff Buckley look like?