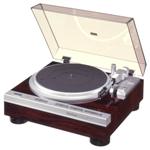 Esta, who arrived on Wednesday evening for a few days of R and R, is helping me with a very important task: auditioning a new turntable. A coworker was looking to unload a circa 1983 Denon DP-45F that hadn't been played in eleven years.
So far the results have been mixed. On the plus side, the full automatic action is smooth, and the sound can be quite good, even without the grounding strap connected. On the minus side, the unit is an inch or so too deep for our AV shelf, meaning I would need to do another cutout (if I could and still be able to lift the glass on the turntable). More damningly, the thing skips on brand new records. I'm not sure if that's because it needs a new stylus, because it doesn't like 180 gram vinyl, or what. I'll play with it a little more this weekend and see if I can isolate the problem without shelling out the money for a new stylus or cartridge (which could be substantial, according to this thread).
It is a sweet looking turntable though.