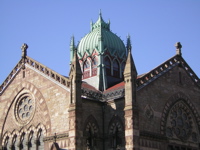 Last night was my first service as part of the choir at Old South Church. It felt a bit like a homecoming, somehow. We've been looking for a church since we got back to the east coast. The challenge for us has been to find a church with a traditional liturgy (in our opinion, a PowerPoint slide showing the lyrics to the song that you're to sing along with the Christian "praise band" up front does not better a hymnal and an organist) and progressive theology.
Our challenge was made more difficult because, as our Seattle pastor noted when I asked him about Boston area churches, "we Presbyterians aren't too strong in New England." There are fewer than ten Presbyterian Church (USA) congregations in the greater Boston area, and after visiting them all we were disappointed. Either they had no music program, or their pastor didn't challenge us, or we just plain didn't feel at home.
So it was that we returned to Old South, which is an old, old Congregationalist cum UCC church. How old? The congregation dates back more than 100 years before the Declaration of Independence, to 1669, and their current church building, which is the "new building," since it was completed in 1875. The pastors are challenging and progressive, as befits a congregation about whom John Greenleaf Whittier once wrote "So, long as Boston shall Boston be,/And her bay-tides rise and fall,/Shall freedom stand in the Old South Church/And plead for the rights of all!". The new senior minister, Nancy S. Taylor, is already gaining something of a reputation in Boston for her clarion voice on matters of social justice (you can read some of her sermons, such as this recent one on St. Valentine and the conscience of the church, and judge whether it's a deserved reputation).
Further, the church has a solid music program. I've been consistently impressed with the choices of repertoire, and though the choir is a bit small (with me, there are four tenors—maybe five) it's musical. I'm looking forward to continuing to sing with them.