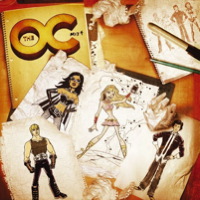 At some point in the late 1990s, as radio sank further into irrelevance and Clear Channel-approved playlists created a stranglehold on airtime for new artists, television started to come into its own as a way to "break" unknown musicians. One of the best programs for showcasing new artists' work is—gasp—"The O.C.," whose strangely moralistic take on the teen melodrama is accompanied by intelligent, thoughtful soundtrack selections. Many of the musicians on the soundtrack would be just at home on an alternative station like KEXP. The show's soundtrack series—as evident in its latest incarnation Music From The O.C. Mix 4—does what a soundtrack must do: provides memorable musical moments from the show in a musically consistent format. It goes beyond the call of duty by doubling as a new artist compilation.
The collection ranges from quirky rock (the Futureheads, Modest Mouse) to bright and shiny (the New Pornographers' A.C. Newman, Imogen Heap) to slowgroovy (Flunk). There's even an old favorite, the Reindeer Section's "Cartwheels" (from their superb 2002 release Son of Evil Reindeer). The biggest coup? A new Beck song, "Scarecrow," in advance of his forthcoming new album Guero (see this VH1.com article for the backstory). The one slightly false note, sadly, is the Matt Pond PA cover of Oasis's "Champagne Supernova." While still yearningly evocative, the cover lacks some of the grit of the original and feels a little too much like it's been sweetened for television.
Still, for a collection of soundtrack stuff to be that coherent, there's got to be a master mix-maker behind the scene. Thank Alexandra Patsavas, the show's music supervisor, whose job it is to line up new tracks for the show's writers to audition and slip into the show, and to assemble these mixes. It's due to her work that the compilation feels less like a "compilation" and more like a really good mix tape.
If I have one complaint, it's that, for listeners of the aforementioned KEXP and other hipsterati, too many of the artists come with all their indie cred pre-assembled. Imogen Heap, Sufjan Stevens, Carl Newman, Flunk, Modest Mouse, the Reindeer Section, and of course Beck are all familiar names to most indie rock fans. On the other hand, Pinback, the Futureheads, Aqueduct, Bell X1, and Matt Pond PA are all the sort of lesser known discoveries that I was hoping for from a groundbreaking indie compilation series. Hopefully the next series will showcase a few more promising unknowns rather than relying so heavily on known quantities.
Originally published on BlogCritics.