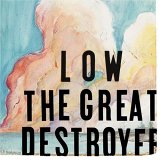 Low's music has always rewarded careful listening, and its tempos have famously permitted it. Having been lumped in with the slowcore movement for their beautiful and glacial music, the band's name conjures memories of songs that move with geological speed. But it's reductionist to think of them as slowcore; the other ingredients in their musical mix—including memorable melodic lines, a sure sense of timbre and atmosphere, drones, the haunting vocal harmonies of Alan Sparhawk and Mimi Parker, the anchoring bass of Zak Sally, and an underappreciated sense of humor that has led them to cover songs by the Misfits and Journey (as documented on last year's b-sides compilation, A Lifetime of Temporary Relief)—are the real musical arrows in Low's quiver. And, with the tempos positively frantic by the standards of past performances on Long Division, those arrows find their mark in The Great Destroyer.
The album merits a song-by-song review, if only because the band's musical experimentation causes them to stretch in many different directions at once. The album opener ("Monkey") starts with a wave of fuzzed out bass, and the bass and guitar stay snarling at the front of the mix throughout. "California" is, by contrast, a slice of sunny pop with memorable harmonies and an oddly hooky chorus ("You had to sell the farm/And go to California where it's warm"). The song falters a bit as it pulls the energy back in the last bridge, turning what would otherwise be a perfect single into just a great song. The same style plus a dash of guitar line a la U2's the Edge, informs "Just Stand Back" a little later in the album, and is deconstructed with distorted vocals, odd stereo placements, hand claps, and crunching guitar lines on "Step."
"Everybody's Song" is menacing, embracing an abrasive guitar riff (oddly reminiscent of the one from Sun Kil Moon's "Lily and Parrots") and angry minor-third vocal harmonies over some seriously pounding bass drums. By contrast, "Silver Rider" sounds like old Low circa Things We Lost in the Fire—pleasant and maybe necessary after the preceding three tracks.
Then there's "On the Edge Of." The song sounds like the band was listening to a bunch of old Neil Young records—it has that same crazed/pining dichotomy to its structure and to the sound, and the lead guitar hook paired to Sparhawk's high thin tenor conjure visions of Freedom. The same contrast informs "Pissing," "Broadway (So Many People)," and "When I Go Deaf," which sounds less like a melding of "Low's varied styles together into a single song" (as Sub Pop writes in the promotional blurb for the album) than a manifesto that declares that beautiful delicate vocal lines and aggressive guitar solos needn't live in separate worlds. The closer, "Walk into the Sea," explores the same territory by foregrounding Mimi Parker's drumming against the delicate melody line.
The album isn't as much of a departure for the group as it is a needed evolution. Their last album, Trust, sounded constrained by their slow-drone formula and laid bare a few too many of their influences. The Great Destroyer opens up some promising new directions for the band. It also promises that they will follow more than a few of them in albums to come, which is the best news of all.
Originally posted at Blogcritics.