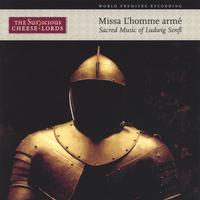 It is hard to remember sometimes, from the perspective of early 2005, that many choral masterworks whose existence we take for granted are relatively new to the recorded repertoire. Bach's B Minor Mass and Brahms' Ein Deutsches Requiem were first recorded in their entirety by Robert Shaw for RCA Victor in 1947, nearly a full half-century after sound recordings became commercially available, and works like Berlioz's Messe Solenelle were available only as imported recordings until the Washington Cathedral Choral Society's North American premiere recording of the work in the early 1990s. But many more composers are mostly or entirely unrecorded, particularly the numerous choral composers of the Renaissance.
This rich unrecorded choral world is rapidly becoming the specialty of Washington, DC's resident male early music a cappella group, the Suspicious Cheese Lords. Following their first CD, which featured unrecorded works of Elzear Genet (aka Carpentras), the Cheese Lords return with Missa L'homme armé, an ambitious program of premiere recordings from the works of Ludwig Senfl (whose name means mustard in German).
Senfl, who was a musical contemporary of Carpentras, Juan del Encina, and other better known Renaissance composers, was the court composer for Holy Roman Emperor Maximilian I, but faded into relative obscurity following Maximilian's death, and remained in the employ of Duke Wilhelm IV of Bavaria until his own death in 1543. He left behind an enormous amount of music, including over 100 mass settings. For this recording, the Cheese Lords selected Senfl's parody mass on the popular tune L'homme armé, several motets, and Senfl's vast (and incomplete) Te Deum, which Cheese Lord collaborator and Library of Congress researcher Michael Donaldson completed by adding an altus line in accordance with known performance practices of the time.
The performances this time around are stellar. The ensemble has grown in sonority and maturity since their debut release, and the blend and solo lines are superb. This is a highly recommended recording from an even more highly recommended live ensemble.
(And it's been almost five years since I sang with them, so you can take that as a reasonably objective opinion.)