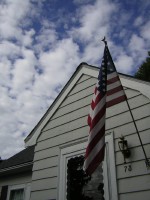 I took the bus for the first time yesterday, going toward Kendall Square (via a change to the T at Harvard Square) to meet Lisa after work. She and I went to John Harvard's for a quick burger and beer and to pick up a couple growlers of her favorite Pale Ale.
On the way I shot a couple photos of the water tower at Park Circle, just a block or so from our house, taking advantage of the first clear skies in a few days. This morning I shot some more photos, including my first Lensday entry. I don't plan to make this a regular occurrence, but thought it would be fun.
Anyway, autumn: not crisp yet (still too soggy from the last few storms), and not too many turning trees, but beautiful anyway.