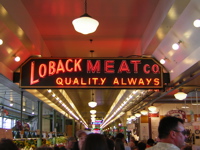 I spent what I can only hope will be Seattle's hottest day this year touching base with some old tourist landmarks, beginning with the Pike Place Market. I came away with four good photos to reward my Saturday sweat.
The a cappella quartet in front of the original Starbucks in the first picture should be publicly acknowledged Seattle treasures. I first saw them in 2001 when Lisa and I went to our first Mariners' game, and they can be found alongside Pike's Place most summer weekends, even when it's hotter than a red-assed bee outside. I especially like the Asian tourist with the Burberry hat and purse peering through the window behind the quartet. As I snapped this picture, the lead singer (leftmost) was calling out "Even at Starbucks Coffee Tea and Spices, I'm gonna let it shine."
Loback Meat Company: Quality Always in the second picture. I always wanted to get a good clear photo of this. I didn't want to use a flash, so I had to steady my hand to adjust for the slower shutter speed, and took three or four pictures propped against a nearby pillar. I like the backsplash of the red neon on the ceiling paint, and there's something thematically appropriate about the steady sign contrasting with the blurred faces below.
Next is today's silly phonecam picture, taken outside SAM (where I had just seen the Van Gogh to Mondrian exhibit). I wanted to contrast the big Borofsky sculpture with the shorts-clad tourists. (Also good in the museum this time: the two oversized Joseph Cornell hommages by Curtis Steiner and Galen Lowe; discussed at the bottom of this article on the untold story exhibition.)
Finally, the old barefoot guy in shorts. I liked this man's face, and the baby being pulled up the hill next to him.