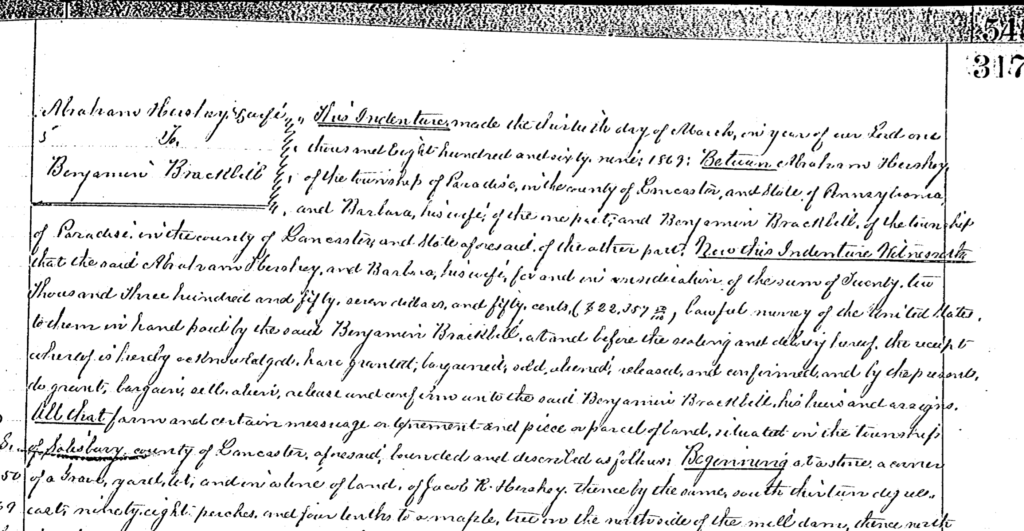 After being reminded while writing the last post that I hadn't dug up the deed to the farm back in 2009, I decided to spend some downtime this morning going back through the notes and seeing what I could find regarding the transfer of the farm from Abraham Hershey, who built the farmhouse in 1857, to the family of Harry G. Brackbill, whose descendants (my extended family) still own the property today.
And I might have found something. In reviewing the photos of the General Index of Deeds that were posted by the Southern Lancaster County Historical Society, I found a deed conveying property in Salisbury Township from Abraham Hershey et ux (and wife) to Benjamin Brackbill, my great-great-great grandfather, in 1867. No deeds in Salisbury Township were recorded after that date against Abraham Hershey, so I think this was probably the property.
Benjamin Brackbill, whose main residence and land holdings were in Paradise, was, according to his obituary, "a man of wealth." He had two sons who were farmers, Elam (my 2x great grandfather) and Benjamin. I think it's quite likely that Benjamin purchased the Abraham Hershey farm so that Elam could become established, without having to subdivide his farm in Paradise between his two sons.
Thanks to the index, I was able to view the actual deed (book T9, pp. 317-318) and confirm that Abraham and Barbara Hershey, who built the house on the farm in 1857, sold the farm to Benjamin Brackbill in 1867 for the sum of $22,357.50. From there, presumably the wills of Benjamin and Elam would show the property changing hands to Harry G. Brackbill, my great-grandfather. The deed also showed the history of the property before Abraham Hershey: it had been purchased from Christian Umble by Christian Hershey, Abraham's father, on April 2, 1812. The deed for that transaction (book 8, p. 91ff) shows that the land originally belonged to Andrew Deig and his wife Ann, who sold it on April 14, 1807, to Christian Fisher; who turned around and sold the land to Christian Umble (or Ummel) on April 1, 1812; who then turned around the next day and sold it to Christian Hershey. At the time the parcel was only 30 acres; Christian and Abraham subsequently enlarged it to 101 acres before it was sold to Benjamin Brackbill.
And it doesn't stop there! The deed (book Y3, p. 700ff) between Andrew Deig and Christian Fisher gives us more of the history. On March 27, 1786, Andrew and Robert Caldwell and their wives sold a parcel of 232 acres containing this property to John Rickebaugh and Christian Roop (or Roof); the two purchasers partitioned the land in 1790, but Rickebaugh purchased Roop's share. From there it gets messy, with the land being divided and partitioned until it ended up in Deig's hands via sale from Christian Hurst.
And if you want to trace it further back, you can do it yourself. 🙂
Just kidding! I couldn't stop! The Caldwells got the land in 1746 from the executors of Stephen Cole's estate (book FF, p. 172ff); Cole got it from the Penns in 1731 (book FF p. 168ff).
And that's as far back as I think it's going to go.