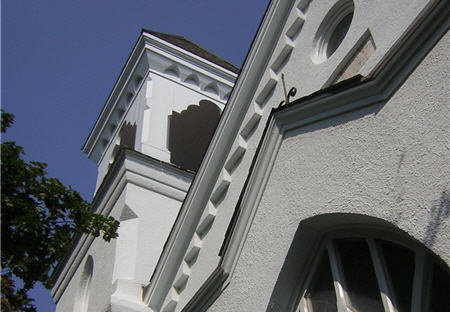 I should really just retitle this blog "Tim's Adventures in Historical Documents." I keep finding really interesting stuff when I dig.
Today's interesting find is probably only interesting to my Lancaster County family, but here goes: the Leacock Presbyterian Church in Paradise, PA, which was my mother's family's church since at least the early part of the 20th century, has a deeper connection to the family than we knew.
I was looking through deeds, as lately I seem wont to do, when I decided to stop checking out property sold by Abraham Hershey and look for what was sold by his father and mother, Christian and Susanna. And, though I still didn't find who sold the barn, I found something more interesting: a deed, on pp. 459 and 460 of the old deed book Z7, dated June 12, 1840, recording the sale of land in what was then Strasburg to the trustees of the old Leacock Presbyterian Church, so that they could "erect and build… a house or place of worship, for the use of the members of the Presbyterian Church…"
If you look closely at the photo above, at its maximum resolution on the Flickr page, you'll see a dedication stone listing the beginning of the building in 1840. The land that Christian and Susanna Hershey sold the trustees for the princely sum of $286.87 became the home of the "new" Leacock Presbyterian Church, the church that my great-grandfather and his family then attended, in which my parents got married, in whose graveyard now resides a fair number of my kin. It gave me a bit of a shiver knowing that my connection to that church goes back even further.