Posted by Tim Jarrett
On December 12, 2012

Filed under Virginia

1 Comment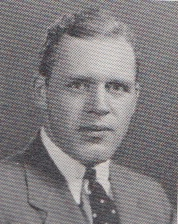 As these things tend to go, my Virginia Glee Club history project has ebbs and flows. Sometimes there's not a lot to write about; sometimes there's too much. Like this past week, when I nailed down the identity of a few presidents of the Glee Club and discovered one was a third cousin.
I should have known that when I found someone named Frantz Hershey, he would turn out to be a relative. It turns out that not only do I know him, I have him in my genealogy. Ezra Frantz Hershey, Jr. was the president of the Glee Club in 1938–1939; he was also the son of E.F. Hershey, first cousin of Milton Hershey and treasurer of the Hershey Chocolate Company for over 40 years. Frantz is therefore my third cousin, twice removed.
As they say, you can't make this stuff up.
I also confirmed Dan Vincent and Thad Polk as presidents of the Club in 1984-85 and 1985-86, thanks to a newly available Cavalier Daily article that showed up in Google News since the last time I checked. Surprisingly, even with those discoveries, I know less about the 1980s presidents than almost any other decade: I'm still missing information about 1980–81, 1981–82, and 1986–87. Always more work to do…
One comment...What do you think?
Posted by Nathan Moore

13th December, 2012 at 12:14 am

Hi Tim,
have you contacted Michael Butterman about the 80s?
info@michaelbutterman.com
He would probably know 86-87 and he would most likely be able to contact older fossils to round out that list. Seals and Butler were also (I think) of that era and were VGs too.

Keep up the good work.
Nathan
What do you think? Join the discussion...