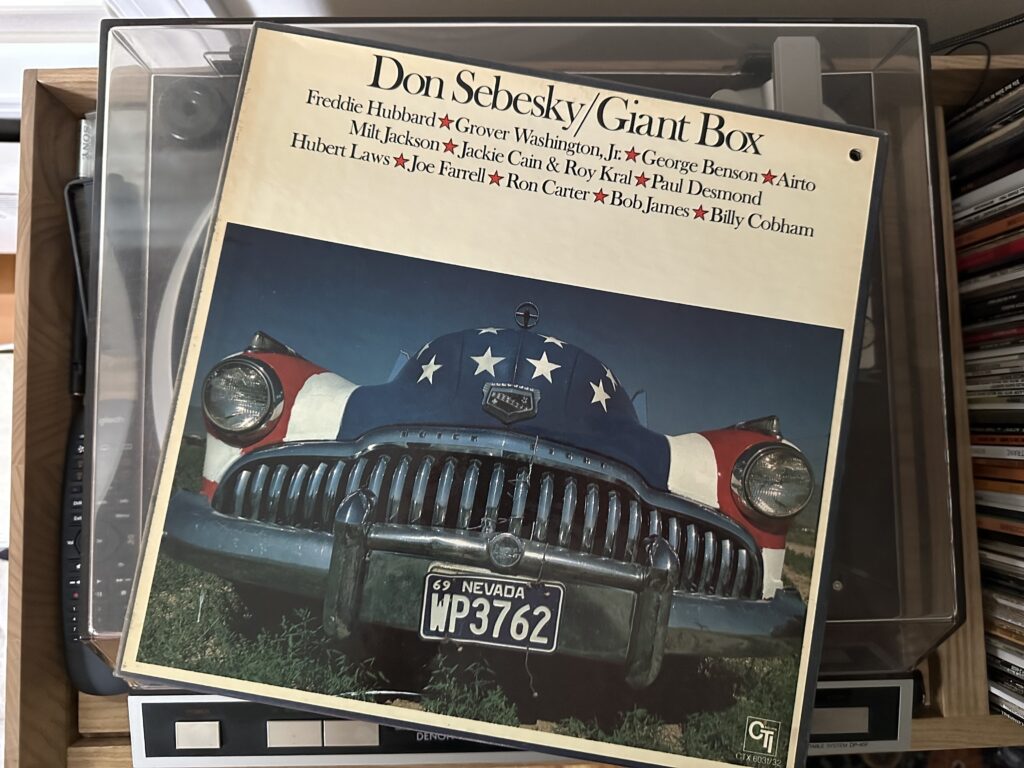 Album of the Week, July 22, 2023
Remember how I said, last week, that Deodato 2 represented the CTI Records sound dialed up to 11? Well, we're going to redefine what "11" is. Giant Box, the biggest physical release that CTI ever did, lives up to its name in terms of packaging, scope, number of players, and sheer ambition. And it's all wrapped up in the first of only two releases in the CTI discography credited to Don Sebesky as a leader, backed up by virtually every name on the CTI roster.
We've heard about Sebesky in a number of these reviews, and it's worth taking a peek at his bio. Born in Perth Amboy, New Jersey, in 1937; a trombonist who studied at the Manhattan School of Music and played with Kai Winding, Claude Thornhill, Tommy Dorsey, Warren Covington, Maynard Ferguson and Stan Kenton; switched to arranging in 1960; had enormous success with his arrangements for Wes Montgomery on his 1965 album Bumpin' for Verve Records, produced by Creed Taylor. By the time we find Giant Box in 1973, Sebesky had been working with Taylor for almost a decade, and the new success of the label enabled him to do this project.
And what a project it was! The seven tracks on Giant Box range from classical third stream crossover—only in this case it's Stravinsky and Rachmaninoff; pop music (a Joni Mitchell cover); jazz-funk; and a handful of original compositions that channel a whole bunch of new influences, including Donald Byrd's flirtations with spiritual jazz. There's a choir on here, somehow. And there's (deep breath) Freddie Hubbard, Grover Washington Jr., George Benson, Airto, Milt Jackson, vocalists Jackie Cain and Roy Kral, Dave Brubeck's foil Paul Desmond, Hubert Laws, Joe Farrell, Ron Carter, Bob James, Billy Cobham, Jack DeJohnette, Randy Brecker, Warren Covington, and a full orchestra. Basically the whole roster of the label showed up, and it's incredible.
"Firebird/Birds of Fire" combines Igor Stravinsky's orchestral score for The Firebird with John McLaughlin's fusion classic "Birds of Fire," the title track for the second album by the Mahavishnu Orchestra, which had been released just four months before the recording sessions started. It's as bonkers as it sounds, with a purely classical opening that only hints, via slight hits of the rhythm guitar, at the madness that lies ahead. At the 2:15 mark, the classical orchestra parts like a curtain, revealing an ensemble anchored by the tight rhythm section plus George Benson and a completely bananas string section. Hubert Laws gets the first solo over this rhythm section, followed by Freddie Hubbard, whose solo dissolves into a swirl of freaked-out strings. The strings and rhythm section fade out, an orchestral statement triumphantly re-voices the ending theme, and then the rhythm section and swirling strings return in a two minute coda, tapering in a fade-out.
After the opening track, Joni Mitchell's "Song to a Seagull" is a quiet breath, with Paul Desmond's alto saxophone fading in unaccompanied. Bob James enters on Fender Rhodes, joined by Ron Carter. This is mostly a quartet track, with only a hint of orchestral backing between verses and under the final chorus. The track is meditative and quiet, basically the polar opposite of "Firebird/Birds of Fire".
"Free as a Bird" is one of the Sebesky originals on the album. The horn chart is straight out of the school of Gil Evans, but it falls away quickly to Bob James' piano, in a trio with Carter and DeJohnette. Hubbard plays a brisk solo that's quietly virtuosic, with all of the blaze and none of the screaming of his solo live work. Grover Washington Jr. plays a propulsive solo on the soprano sax, in only his second CTI appearance (he made his CTI debut on Randy Weston's 1972 Blue Moses). The tempo changes to a 6/8 samba for about 30 seconds and then recapitulates the top of the tune. It's a brilliant show.
Jimmy Webb's "Psalm 150" was written for Revelation, a short lived Christian rock band, and first recorded on their 1970 self-titled debut album. Recast as a jazz number, it's reminiscent of Donald Byrd's spiritual jazz experiments on A New Perspective, albeit with slightly squarer vocals courtesy of Jackie and Roy, very approximate Latin pronunciation, and a little echo of the Beatles. Freddie Hubbard's trumpet solo is tight, playing with meter as it weaves around the blues. When Ron Carter takes a piccolo bass solo, it shifts the whole composition into a blues jam. Bob James provides a quirky organ solo that continues to evolve the blues sound. After a final chorus, the whole thing ends in "loud, crashing cymbals."
Paul Desmond again changes gears, with a tender rendition of Rachmaninoff's "Vocalise." I once went out with a girl in college who was an oboe player, who bitterly protested when she heard Branford Marsalis's rendition of "Vocalise": "The saxophones get all the solos! Let the oboe have this one!" Here Desmond applies enough English on his solo, alongside DeJohnette's brilliant drums, to rightly claim the tune for the saxophone; Milt Jackson also comes at the tune sideways in his solo, evoking the underlying blues. Hubert Laws stacks on top of Jackson's solo, then yields to the orchestra and a final chorus.
"Fly/Circles," another Sebesky original, opens in flights of flute, courtesy of Hubert Laws and an echo loop. Sebesky sings his composition "Fly" in one of the few bad choices on the album; his is a fine composer's voice but not up to the material. Another round of echoed flute ensues, transitioning into "Circles," a fast blues with the tune in doubled keys and soprano sax, this time played by Joe Farrell. After an extended Farrell solo, the orchestra comes back, then falls away for Hubert Laws with Carter and DeJohnette. A final orchestral take on the tune closes out the track.
The closing number, "Semi-Tough" represents the jazz-funk side of CTI quite ably, with Sebesky on a variety of keyboards, Grover Washington Jr. on sax, Billy Cobham on drums, Ron Carter on a rare electric bass, and George Benson on an effects-heavy guitar, plus orchestra and voices. The guitar effect pedal threatens to sink the track; fortunately Washington's sax pulls the track back up to a higher standard of performance. It's not the most successful jazz-funk track in the CTI catalog, but it's a good closing number here.
Giant Box is not subtle, but it's surprisingly effective at showcasing all the different elements of the CTI sound, thanks to a cast of thousands and some excellent arranging from Sebesky. We'll hear his arrangements again, but our next few CTI albums will be smaller-scale affairs—though no less funky.
You can listen to the album here: