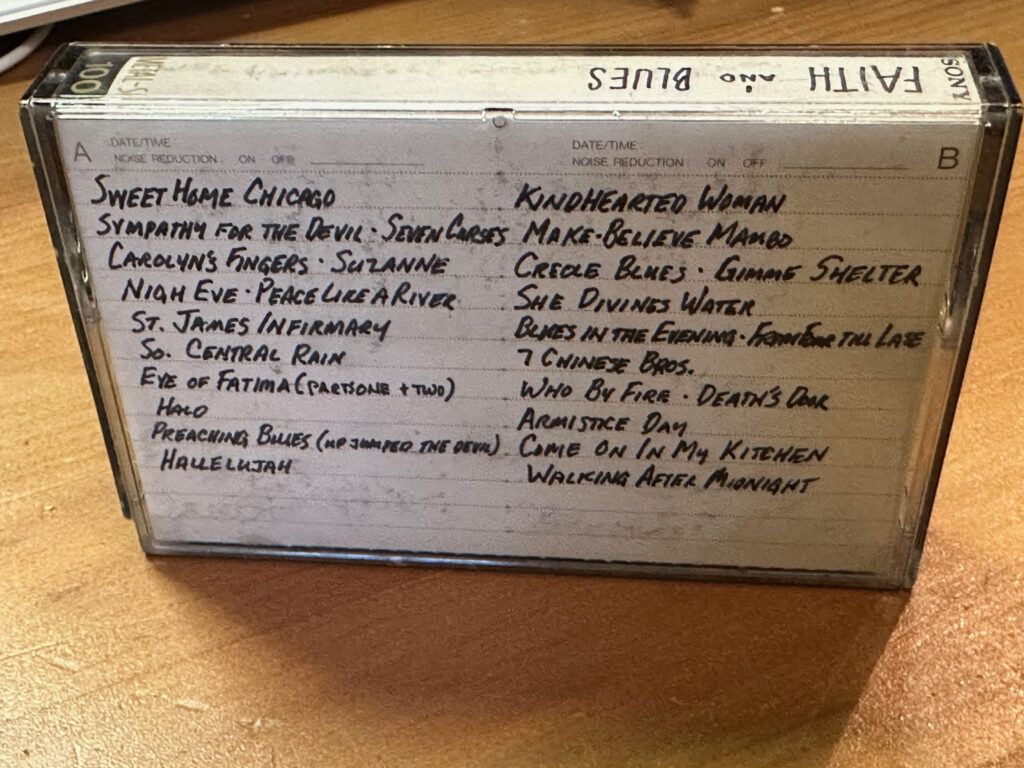 When I got to the University of Virginia, I started buying much more music. Plan 9 (the original one on the Corner) was within walking distance, I had the mail order music clubs, I had neighbors with their own CD collections, and I started checking out different musical directions.
One of the directions that was new to me at the time was the blues. There had started to be some serious efforts to reissue and preserve old delta blues recordings, starting with the complete works of Robert Johnson and a series of box sets of artists on Chess Records. I found both available on the various CD clubs (probably Columbia, in this case) for a fraction of the list price, and started digesting the music by putting it alongside other blues that I understood better, namely jazz, the Rolling Stones, and folk music.
I might have been on to something. The Child Ballads that Dylan rifled for "Seven Curses" have a straight through-line to the blues. So does every single Leonard Cohen song. And the themes of death, guilt, and murder that snake through most of the rest of the tracks are all steeped in the blues. The outlier might be David Byrne's "Make Believe Mambo," but it works well melodically with the songs that surround it, and some blues are for dancing.
I note in passing that I made this mix in the late spring of 1992, long before Jeff Buckley covered the version of "Hallelujah" that appears on this mix as performed by John Cale and made it immortal. I always liked Cale.
Special shouts out in this mix to my upstairs neighbor in Harrison Portal at Monroe Hill for lending me the Rolling Stones compilation; to Greg for introducing me to Reckoning and Camper Van Beethoven in our first year; and to now-Bishop Poulson Reed for suggesting that we visit Preservation Hall on our visit to New Orleans while on the Tour of the South in 1992, where I heard the band play and picked up New Orleans – Vol. 4.
"Sweet Home Chicago" – Robert Johnson (The Complete Recordings)
"Sympathy for the Devil" – The Rolling Stones (Beggars Banquet)
"Seven Curses" – Bob Dylan (The Bootleg Series, Vols. 1–3: Rare and Unreleased)
"Carolyn's Fingers" – Cocteau Twins (Blue Bell Knoll)
"Suzanne" – Geoffrey Oryema (I'm Your Fan — The Songs of Leonard Cohen)
"Nigh Eve" – Marcus Roberts (As Serenity Approaches)
"Peace Like a River" – Paul Simon (Paul Simon)
"St. James Infirmary" – Preservation Hall Jazz Band (New Orleans – Vol. IV)
"So. Central Rain" – R.E.M. (Reckoning)
"Eye of Fatima, Pt. 1 & 2" – Camper Van Beethoven (Our Beloved Revolutionary Sweetheart)
"Halo" – Depeche Mode (Violator)
"Preaching Blues (Up Jumped the Devil)" – Robert Johnson (The Complete Recordings)
"Hallelujah" – John Cale (I'm Your Fan — The Songs of Leonard Cohen)
"Kindhearted Woman Blues" – Robert Johnson (The Complete Recordings)
"Make Believe Mambo" – David Byrne (Rei Momo)
"Creole Blues" – Marcus Roberts (As Serenity Approaches)
"Gimme Shelter" – The Rolling Stones (Let It Bleed)
"She Divines Water" – Camper Van Beethoven (Our Beloved Revolutionary Sweetheart)
"Blues in the Evening" – Marcus Roberts (As Serenity Approaches)
"From Four Till Late" – Robert Johnson (The Complete Recordings)
"7 Chinese Bros." – R.E.M. (Reckoning)
"Who By Fire" – The House of Love (I'm Your Fan — The Songs of Leonard Cohen)
"Death's Door" – Depeche Mode (Until the End of the World Soundtrack)
"Armistice Day" –Paul Simon (Paul Simon)
"Come On In My Kitchen" – Robert Johnson (The Complete Recordings)
"Walkin' After Midnight" – Cowboy Junkies (The Trinity Session)
You can listen to (most of) the mix on Apple Music: