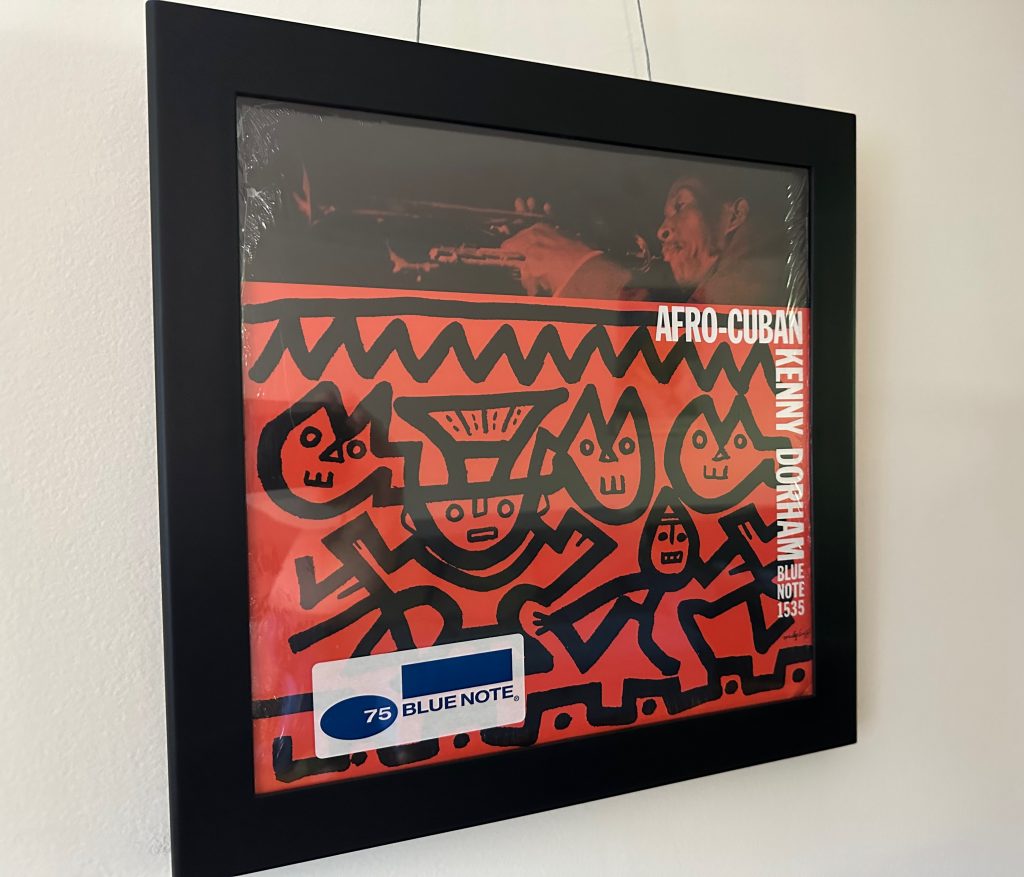 Album of the Week, October 15, 2022
We've seen a lot of different influences in jazz: classical music, blues, rock. But one big strain that didn't really touch Miles, but influenced a lot of other jazz musicians, is Cuban music. Arriving in the US in the 1940s, by the mid-1950s it was a well established strain of jazz music, championed by Dizzy Gillespie and Chano Pozo, among others. And trumpeter and composer Kenny Durham dove into the music for this, his second album as a leader and first for Blue Note Records.
As we've seen with Herbie Hancock's early Blue Note recordings, dates for the label often drew on different groups of players who were also recording for the roster, meaning that when you pick up a Blue Note recording made in 1955, you stand a very good chance of seeing familiar names in the line-up. Afro-Cuban is no exception, with a group boasting J. J. Johnson on trombone, the great Horace Silver on piano, Hank Mobley on tenor sax, Cecil Payne on baritone, Oscar Pettiford on bass, and Art Blakey on drums. To this assemblage were added Carlos "Patato" Valdes on conga and Richie Goldberg on cowbell. The album was actually recorded in two sessions, with the musicians above appearing in session on March 29, 1955, and the first four tracks on the album were originally released on a 10" LP. Blue Note decided to reissue the record in 1957, adding three tracks from an earlier session recorded January 30, 1955 without Valdes and Goldberg, and substituting Percy Heath for Pettiford on bass.
The album opens with strong Afro-Cuban flavor with "Afrodisia," the congas telegraphing the artistic direction of the album at once. After the brass line states the opening theme, Dorham's trumpet provides a solo that combines the Cuban flavor with his own hard bop approach to the music, with hard bop changes alternating with the melodic licks across several choruses. Mobley's refined sax follows, kicking the group briefly into a different unsyncopated pattern before he settles back into the swing of things and passes it to J.J. Johnson, who takes two choruses before letting Blakey and Valdes trade eights with the entire horn line.
"Lotus Flower" is a slower ballad, with the horns introducing the melody over a gently loping bass and conga pattern. Dorham provides a good opportunity to hear the differences in his approach to the horn from other players like Miles. There's no mute here, and a good deal more motion in the line; Miles would likely have played half as many notes, but Dorham's approach is equally lovely. The interlude is brief; "Minor's Holiday" returns to the Cuban dance rhythms of the opening, with Dorham briskly soloing over Valdes' Cuban rhythms and Blakey's customarily volcanic drumming. Indeed, while Blakey is normally no slouch in bringing energy to the recording session, here he sounds positively charged by Valdes.
The only composition not by Dorham on the record, "Basheer's Dream" (written by the redoubtable Gigi Gryce, some seven years before he adopted the Islamic name Basheer Qusim) is here steeped both in the Cuban rhythms of the opening and the post-bop approach that Gryce introduced in his work with Miles on Birth of the Cool. Johnson's trombone solo is especially tasty here, as he pulls a minor countermelody out of the chord progressions of the song, contrasting with the high solo lines of both Dorham and Mobley.
The second side of the album reads as more straight-ahead hard bop, but it's no less delightful, thanks to the continued excellent work of the front line. "K.D.'s Motion," true to its name, roams all over the chords in the opening chorus and in Dorham's solo before he passes to Cecil Payne for a rare baritone solo. The transition between Payne and Mobley is almost telepathic, with the latter picking up Payne's swing for a brief turn before passing it to Silver who gets a relatively rare moment atop the rhythm section before the chorus returns.
Dorham's "La Villa" begins where "K.D.'s Motion" ended, with a propulsive statement on the drums from Blakey. The tune, which can also be found under Sonny Rollins' name in several compilations thanks to his presence on a later Dorham session, is blistering throughout as the band navigates through the changes. Solos from Dorham, Mobley and Payne are followed by a spate of trading fours with Blakey and a final statement of the theme. "Venita's Dance" closes the second side in a mid-tempo statement that's kept lively by Blakey and Silver's insistent underpinnings; indeed, it's eye-widening to listen to Silver's melodic approach to the chords underneath each of the soloists and to reflect on the two completely different melodies at work each time.
Dorham was perpetually underrated, a situation not helped by his movement across several labels during his career in the 1950s and 1960s; he recorded four more sessions for Blue Note in between records for Riverside, Time, Prestige/New Jazz, and (after he moved to Europe) SteepleChase. He ultimately died young of kidney disease in 1972. But sessions like Afro Cuban offer tantalizing glimpses of what might have been, and are a good reminder of the pleasures to be found in what might otherwise seem to be just another Blue Note session.
You can listen to the album here: