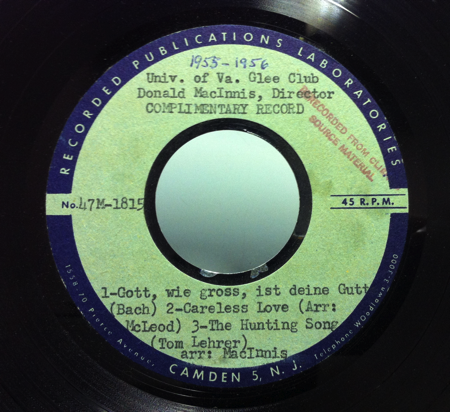 There's not a lot to say about the Virginia Glee Club in the later 1950s, seemingly. The group lost one of its more influential directors, Stephen Tuttle, to Harvard in 1952, and saw two directors alternate during the remaining years. There were tours, sure; legend has it there were even panty raids on other campuses. But no LP survives from the period between 1952 for almost 20 years; no big commissioned work exists; nothing remains but a bunch of concert programs.
Except this. The image above is of an acetate recording that was made as a promo record and sent to radio stations. Seems that Donald MacInnis didn't spend much time with his group recording because they spent time trying to get on live radio. We know they were broadcast on WTVR radio, probably as a result of this acetate.
(Aside: an "acetate" is actually made of aluminum—or, in the WWII years, glass—coated with a thin layer of lacquer. You could cut one live, and some did, but you could also copy prerecorded music onto it. It was common to use acetates for promotional recordings when the number of playbacks was unlikely to be high. You can see the aluminum under the black lacquer of this disk around the hole of the record.)
The repertoire on the disk is interesting, too. The Bach is pretty straightforward, but it's followed up by a downright woozy version of "Careless Love," and then by MacInnis's own version of Tom Lehrer's "The Hunting Song." I'm trying to imagine that on a Glee Club program today. In fact, I'd pay money to see this paean to hunting, in which the protagonist bags 7 hunters, two game wardens, and a cow, on a modern day program.
It's a fun recording, albeit short, at around 6 and a half minutes.