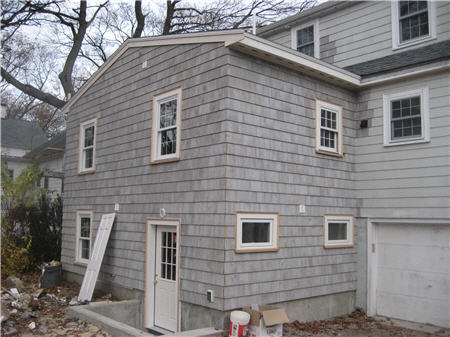 I could have sworn that I wrote something else about our addition project since the foundation was completed in mid-October, but it seems I didn't. It's really astonishing what you can do in a month:
And Friday, the exterior painting began. And this Saturday, the crew came in and finished most of the insulation.
Today, I think, is more insulation, and maybe initial blueboard.
Along the way, we have learned, so far, that working with contractors is a lot faster than doing it yourself, but there are still as many decisions to be made. Meaning that you're not driving yourself crazy working on the house one slow room at a time, you're driving yourself crazy driving around creation looking for "owner purchased items." Our job has been to have the "owner purchased items" ready to install, which meant a lot of back and forth 0ver tile, medicine cabinets, lights, and other ephemera. From our last remodels, we learned not to sweat the small stuff (towel bars etc.) and knew what we wanted for tile, but it still took three weekends of home store visits (I think we managed to visit four Home Depots and two Lowes stores in a single weekend, looking for enough tile to complete the bathrooms) to get everything ready.