The ignominious end of an era.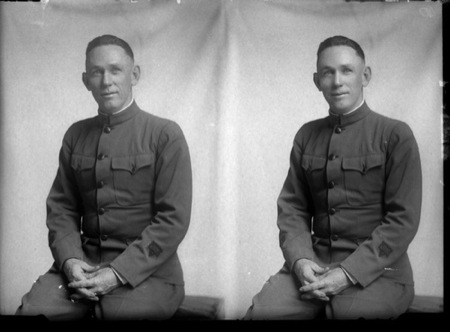 There are two composers who pop up more consistently on recordings of the Virginia Glee Club than any other, across the years: E. A. Craighill, who is generally (though not completely correctly) credited with composing the "Good Old Song," and J.A. Morrow, who composed the University's official alma mater, "Virginia, Hail, All Hail." The two songs are generally performed these days as one, and in fact they have more in common than their status as official or unofficial alma maters: both were composed by Virginia students who were apparently members of the Glee Club.
John Albert Morrow makes his earliest appearance in the documentary record, as I mentioned yesterday, performing solos in the chapel choir under the director of Alfred Lawrence Hall-Quest, on October 14, 1916. At the time, Hall-Quest was directing both the chapel choir and the Glee Club, so it's a reasonable assumption that Morrow sang with both groups. We know that he also played piano and participated in missions on behalf of the YMCA to other parts of Virginia.
We also know that Morrow participated in other missions. The June 13, 1918 photo above, from the Holsinger archives, is one of a series of World War I photos taken by the studio. We don't know what Morrow did in the war, other than the clue that he wears an Army uniform in the photo.
His University career spans both sides of the Great War and is a little odd: he is listed in the April 1917 University of Virginia Recordas being a masters student in mathematics, philosophy, and physics, having taken his undergraduate degree at Emory and Henry, while in 1920 he is listed as a student in the College. This may have been a typo, or he may have pursued additional undergrad classes after demobbing, but in 1921 he was listed (with an MA) as a teaching fellow in the Engineering department teaching Chemistry. He continues to appear in the Record variously as a BA and MA (presumably, he was working on the latter even in 1921) until 1925 and 1926, when he is listed as a summer session instructor in mathematics, affiliated with New York University. After that the trail goes cold, alas.
But there's that one indisputable moment of fame: in 1923, his 1921 composition "Virginia, Hail, All Hail" won a contest as the best student alma mater song. No other official alma mater ever having been elected by the University, his work still holds a position of pride–even if none but attendees of Glee Club concerts will ever hear it.