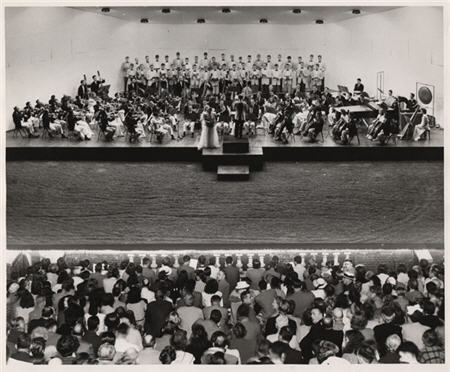 We've visited the Virginia Glee Club during their spa years in the 1930s, but what was the group doing in the 1940s? Part of that history, the group's participation in the creation of Randall Thompson's "Testament of Freedom" (dedicated to the group and composed in honor of Thomas Jefferson's 200th birthday), is well documented. The postwar years find the group in a variety of settings, including preparing for the first Songs of the University of Virginia recording, but little is documented publicly except for one concert appearance at the inaugural Virginia Music Festival.
The Virginia Music Festival was started as an "experiment" in musical performances in the state–a non-profit organization bringing "the best in music to the Old Dominion." Its founders included Dr. Meta Glass, president of Sweet Briar College, and Edward Stettinius, Jr., UVA alum, former secretary of state, and then-rector of the University. Performances were hosted in Scott Stadium at the University. In its first year, 1947, the "best in music" was three performances by the National Symphony Orchestra. In subsequent years, there were school band competitions and folk musicians (the latter program curated by none other than my distant cousin Bascom Lamar Lunsford). In 1949, its cofounder Stettinius died of a coronary thrombosis at the age of 49. After 1950, the Festival was no more, at least in this incarnation.
It's tempting to imagine the Virginia Music Festival as a possible Southern incarnation of the Tanglewood Festival, but its small scale, lack of a permanent orchestra in residence, and lack of a musical education component render it just a curiosity of history, albeit one in which the Glee Club was involved. The photo above shows the Glee Club, resplendent in summer whites, on a temporary stage behind the NSO, accompanying Mona Paulee of the Metropolitan Opera in Brahms' Alto Rhapsody. Unlike the northern glee clubs, the Virginia Glee Club did not often collaborate with major symphony orchestras (due in part to proximity issues), so this has to be counted as a high point in the group's mid-century artistic history. In fact, between the association with Randall Thompson, this event, and musicologist Stephen Tuttle's involvement in directing the group, this period was a high point overall in the group's musical renown. Five years later Tuttle would be gone to Harvard University (and in eight he would be dead), and the group's focus would be narrowed, for a while, to University audiences.