Photos from the early 80s at UVA, including a Glee Club rehearsal.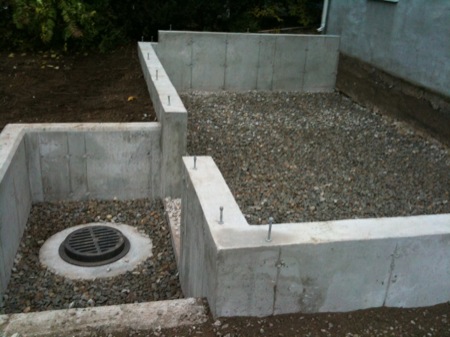 As before, I'm having a hard time keeping up with our contractors. The picture above is from Friday. At the end of last week, they had sunk a pair of drywells (one visible above), established the drainage field with perforated pipe and gravel inside and outside the foundation, and backfilled the foundation (poured the previous week). Today they got the lumber on site and got the sill plate down. This despite snowfall yesterday that was still on the ground and cars this morning.
We were busy over the weekend too. I had a PODS storage unit delivered on Friday, and filled the back part of it with the contents of our storage/mechanical room and our laundry room on Saturday. The plan right now is that they'll cut the door opening from the house (inside the current storage/mech room) to the addition tomorrow. We'll see how they do. I forgot how much I like the PODS guys–we used them to move our stuff across country when we moved from Kirkland, and they had a real can-do attitude about backing the pod down the narrow driveway (officially, with six inches fewer clearance than they needed) to drop it behind the house.