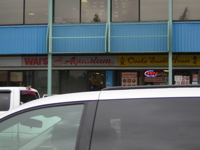 I'm back home. Amazingly enough, there were no further travel incidents—unless you count the flight out of Calgary taking off 90 minutes late for no apparent reason, causing me to take a later connection out of Chicago.
While we were in Calgary, I had two sushi experiences. One was a meal at Zen 8, just down the block from Belgo in Penny Lane, where we asked for omikase and got a really nice assortment of stuff—nothing spectacularly weird from the fish perspective but good quality and very reasonable.
The other was a place we saw on Highway 1 on the way in. I looked to my right at a stoplight and noted a sushi restaurant—right next to an aquarium store. "At least it's fresh," my co-worker noted. I got a picture of this place and will try to post it tomorrow.
Update (13 Oct 2006): Finally got around to posting the picture on Flickr (and above).