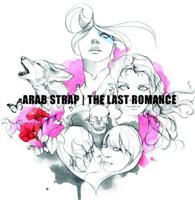 I pressed play on the new Arab Strap and was immediately transported—to the standout track on the last Reindeer Section album, a song called "Whodunnit." Surprising? Not really. The guest vocalist on that track, which was a prickly pear among the mannered (and wonderful) songs from Snow Patrol frontman Gary Lightbody's Scots supergroup, was Aidan Moffat, the vocalist for Scots band Arab Strap. And once you hear Moffat, you never forget.
As on that release, with The Last Romance it's that voice that hits you first, that unmistakable Scots slur that lies somewhere between Bob Dylan and Dylan Thomas after a bender. Moffat has one of the great distinct voices in indie music right now, on first listen a mix of mumble, weird Scots, and hangover-perfect enunciation. The great part is that in spite of the apparent defects, Moffat is a master of delivery, with impeccable phrasing, emotionally expressive diction, and a well-concealed melodic sense that leaves the songs stuck in your head long after they've stopped playing.
Of course, the other half of Arab Strap, multi-instrumentalist Malcolm Middleton, has a lot to do with the memorableness of the songs. Songscapes as bleak as anything in Mogwai or 1980s-era The Cure drift around Moffat's woozy vocals in the desperately driving "If There's No Hope for Us," the opening depressive waltz "Stink," or the bitter rocker "Speed Date."
But the record isn't one-note simple. The cautious optimism of "Don't Ask Me to Dance" has the scope of a Peter Gabriel uptempo ballad with lyrics that could be by Johnny Cash, while the acoustic "Confessions of a Big Brother" is positively tender even through the bitter confessions of the narrator's failings. And "There Is No Ending" is a fine ending indeed, complete with major key, a horn section, and one of the greatest declarations of love ever: "If you can love my growing gut/My rotten teeth and greying hair/Then I can guarantee I'll do/The same as long as you can bear."
It's early in 2006, but this is definitely one of the top releases of the year.
Also published on Blogcritics.