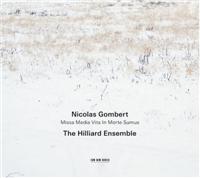 The first thing that I thought on reading the liner notes for the new Hilliard Ensemble recording of the works of Nicolas Gombert was, What a bad time to record the music of a Catholic composer who was sentenced to hard labor for molesting choirboys. The first thing
I thought when I listened to the first track was, Wow, the Hilliard Ensemble sounds amazing. When did they add a bass?
In fact, this recording represents yet another turn in the evolution of the Hilliard Ensemble, one of the longest running early music ensembles performing today. Joining long time members Rogers Covey-Crump, Gordon Jones, and countertenor David James are tenor Andreas Hirtreiter (who has augmented the ensemble on two of their previous three recordings), Steven Harrold (who performed on the Hilliard's chart-topping Morimur and their splendid 2004 recording of Machaut motets), and bass Robert Macdonald. It is the latter's presence who is most spectacularly felt on the recording, as the trademark lush sonority of the Hilliard Ensemble gains a new and welcome depth of tone.
And the bass presence is needed on the title work, Gombert's monumental Missa Media vita in morte sumus. The mass is a musical elaboration or "parody" of Gombert's own motet, "Media vita in morte sumus," which leads off the recording, and both mass and motet share a richly ornamented polyphony that is seamlessly rendered by the Hilliard Ensemble. There is very little space in these compositions; they are densely ornamented and constantly in motion, never settling or resolving. Gombert became famous (prior to being sentenced at hard labor in the galleys for "gross indecency" with a choirboy) for his highly complex and rich writing, which was published all over Europe during the time that he served as unofficial court composer to Emperor Charles V of Spain. Gombert's unparalleled imitative writing and skillful use of dissonance is particularly striking in the closing motet, "Musae Iovis," where sudden changes of tonality, meter, and rhythm that would be at home in a Tallis or Gesualdo composition are put to service in an evocative memorial to Josquin, Gombert's teacher. This motet is the greatest revelation on the disc and makes a solid case for Gombert's rediscovery. The Ensemble's vocal performance, as always, is superbly nuanced and expressive while maintaining the same purity of line and heartrending perfection of phrasing that has characterized all the group's recordings for ECM.
The Hilliard Ensemble is forever inimitable, for a very simple reason that was once outlined to me by a good friend and conductor who worked with the early music ensemble, the Suspicious Cheese Lords, in which I once sang. He was helping us improve our performance of Tallis's Lamentations of Jeremiah, and told us that our tempo was too slow. "Well, we've been listening to the Hilliard recording…" I ventured. He cut me off. "Ah, but they're not human. No mere mortal could hold phrases for that long, that perfectly." Listening to this latest recording it becomes perfectly clear that he was right. Even with a few guests along for the ride, even performing long suppressed compositions that fell through the cracks between Josquin and Palestrina, the Hilliard Ensemble is still the closest thing on record to an out of body experience.
Also posted at Blogcritics.