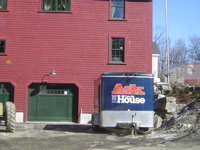 My parents came in last weekend for a fun-filled weekend of sightseeing and home improvement—we didn't plan it but it kind of turned out that way. This was the first visit to our new place by my mom & dad, and it turned out to be a perfect introduction to New England winter.
I already mentioned the Boston Camerata concert on Friday night. On Saturday morning we piled into the car, drove out through Lexington and on toward Carlisle. We were curious to see if we could find the current This Old House project. (My dad, Lisa, and I are addicted to the show, and my mom is very tolerant.) As there are only three or four major roads in Carlisle, it was pretty easy to find the house, though we did have to stop and get directions from some cookie-selling Girl Scouts. We did a brief drive-by and took a few photos to prove we were there.
Afterwards we went downtown. Lisa introduced Mom to the wonders of Filene's Basement, and my dad and I wandered the North End, taking in Modern Pastry and the Old North Church.
On Sunday Lisa and I went and picked up a long-awaited tool purchase, our first major power tool: a 12″ compound miter saw. My dad and I assembled it—and promptly learned that the extension cord powering my workshop didn't provide sufficient juice to power the saw and the lights. Guess I'll be running in a new outlet—and learning about fishing cable above plaster ceilings. (I'll probably take the opportunity to try to run some conduit up there to make it easier to run future cables.)
Monday, though, was the real home improvement day, thanks to a surprise six-inch snowfall. My dad and I started by hanging a coathook board in the entryway/mudroom to mitigate some of the winter coat clutter. Then we took the closet door off its hinges and took a half inch off the bottom with a reciprocating saw. Not only was this fun and therapeutic, it also meant that we could now open the closet door all the way, even with our snow-absorbing all-weather carpet in the mudroom. (Incidentally, there are probably a few more precise ways to cut a door than with a reciprocating saw, but most of them involve tools I don't have—and, even with a 12″ blade, the new miter saw couldn't cut all the way across the bottom.) I finished the job by sanding the new bottom, and priming both the top and bottom of the door. The previous owners hadn't bothered to finish the tops and bottoms of several of the doors, and we had noticed that some of them got swollen and impossible to open and shut properly in the summer humidity. In between, we also took down a swinging door between the kitchen and the dining room that was obstructing traffic flow between the rooms, and Lisa painted the hall connecting the kitchen to the living room.
Somehow with all this going on, we had time to make homemade pasta, roast lamb, and polpettone (Italian meatloaf, basically a very large meatball). On subsequent nights, not all at once.
It was a great visit—I only hope that the snow and hard work didn't scare my folks off!