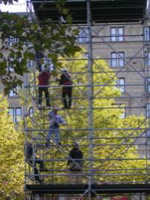 Last catch-up post: On Thursday I had lunch with George Chang. He and Becky are in town while she attends a conference, and he and I decided it would be a good day to walk about the city, have some lunch, and take some pictures. As it turns out, it may have been a perfect day for photographs in downtown Boston. We ate lunch near Copley Square and then wandered around in the square, inspecting and photographing the preparations for the parade today (which I did not attend, thank you very much, preferring to stay warm and dry inside). After a bit we caught up with fellow Sloanie Rick MacDonald and walked up the Harvard Bridge to Central Square for some Tosci's.
I got what I think are some pretty good photos, particularly the one of newly restored Old South Church and the abstract series off the Harvard Bridge.
Last night we had dinner with George, Becky, and some of Becky's friends from her residency at Taranta, which appears to have shifted focus somewhat from purely southern Italian to some inventive cross-breeding with Peruvian cuisine. We slipped in our party of eight on the promise that we would eat and be out in an hour, so that they could re-set the table to help accommodate the party of 30 that would be arriving at 8:30. It was needless to say fabulous, particularly the yucca gnocchi with lamb and spicy cilantro pesto ragu. Afterwards George, Lisa and I retired to the wine bar at Via Valverde for a cheese plate and two outstanding half-bottles, a delectable Dolcetto and a stunning Chianti. The review in USA Today does not appear to have gone to their head.