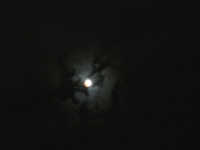 Things have been a little euphoric here in the great Northeast for the last few days, to the point that my blogging has fallen off precipitously. Here's a quick catch-up, starting with Wednesday night.
I walked outside and saw the edge of the moon darkening. I decided it was time to try my luck with a camera. I grabbed it and a small tripod and walked down the hill to the park, a large unlit area where I figured I'd have the best chance of getting a decent sky picture.
There are four large rocks on the hilltop in Robbins Farm Park, which seemed tailor made to try to position the little tripod to catch the sky. Unfortunately, though, the telescoping legs don't hold intermediate positions, which was necessary to get the view of the sky. After a lot of give and take (and a few minutes to snap some other pictures, including this sardonic and almost unreadable LensDay entry), I eventually got the camera in position and stayed out, freezing, taking a photo every few minutes.
The result? Well, the image to the right is the only one that actually came out well. But the rest make a nice QuickTime movie. The only problem was that toward the end my hands were so cold that I couldn't snap the shutter without knocking the camera out of position—hence the swerve in position toward the end.