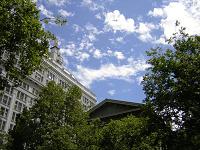 After a really good lunch at Salumi (about which I'll blog shortly), I drove down to Portland on Friday afternoon to spend some time with Shel and Vik. Friday night was pretty relaxing, just hanging out at the McMenamin's Rock Creek Tavern and then swapping music recommendations until late at night.
Saturday was spent first looking at some interesting properties up on Bald Peak, then down checking out some wineries in the Willamette Valley. The big winner was definitely Laurel Ridge, whose wines (ranging from Pinots to Champenoise style sparklers to fine ruby ports) were all spectacular, full flavored, individual and wonderful.
After the afternoon's tasting, we took a brief pause to rehydrate and then headed out to dinner at a "conveyor belt" style sushi restaurant, followed by Kill Bill Vol. 2 over beers at the Laurelhurst.
Sunday was a little more leisurely, dim sum in Chinatown followed by a quick stroll through downtown, ending (as it always does) at Powell's, where I escaped with only one new volume, a hardback 1958 printing of Bonhoeffer's Letters and Papers from Prison. I then had a long, long drive back, with stop and go all the way from two miles inside the border until Tacoma.
I got some interesting pictures along the way. The album from this weekend starts at Salumi and then heads straight south, including both phonecam and CoolPix photos. In some cases, I shot the same scene from both cameras to illustrate the difference between the cameras (my new two fisted camera technique is unstoppable!). Obviously the CoolPix has the edge on resolution, by a large margin, but there's still definitely a place for the weird, high intensity colors and impressionistic smudginess of the phonecam. Take a look at the four pairs of comparison shots.