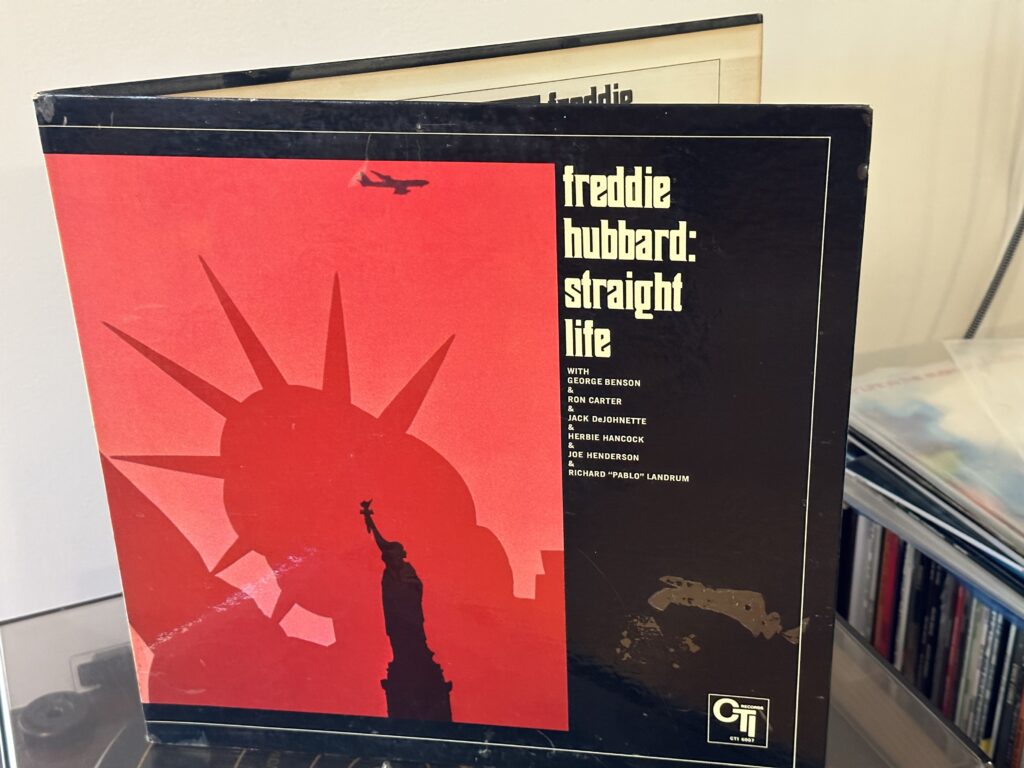 Album of the Week, May 6, 2023
Hubert Laws' Afro-Classic may have been the last album recorded for CTI Records in Rudy Van Gelder's studios in 1970, but it was not the last album recorded in 1970 to be released. A month before Laws' session, Freddie Hubbard returned to the studio where he had previously cut the instant classic Red Clay for a follow-up session. Again featuring Joe Henderson, Herbie Hancock, Ron Carter, and "Pablo" Landrum, the session also saw the addition of Jack DeJohnette on drums, Weldon Irvine on tambourine, and George Benson on guitar. Together the band recorded a session that was more spontaneous, took more risks, and ultimately may have been more successful than its predecessor.
The album opens with the title track, and it's immediately arresting, with Hubbard's fierce articulation of a rapidly tongued fanfare alternating with eruptions from DeJohnette. The tune then abruptly swings into a Latin-tinged funk groove, anchored by Herbie's Fender and Ron Carter's bass line, which alternates arpeggiated fifths, octaves and diminished sevenths. Joe Henderson takes the first solo, playing bold runs and then repeating the theme in ascending keys. This session was recorded a few months after his 1970 legendary live session for Milestone, which was released as "If You're Not Part of the Solution, You're Part of the Problem," and he is at the top of his improvisatory game here, transitioning seamlessly from ferocious runs into more serene reflections before handing over to Hubbard. Freddie's trumpet tone was flawless at this point, pivoting from relaxed, precisely articulated runs to screaming blues shouts within a few bars. Along the way the music slips out of the funky groove into a more abstract utterance, then quietly returns to the groove with the burble of Herbie's solo. He begins by taking a key from Freddie's solo, but then takes off in a more abstract direction, playing against the rhythm and finally landing in time for George Benson to pick up the thread. You can hear players shouting encouragement behind Benson's solo, as his soul-inflected licks shift into funk, then like Herbie shift out of time for sixteen bars or so before crashing back into the rhythm of the groove. The band then locks into the groove as DeJohnette and Landrum trade polyrhythms underneath. Hubbard returns with a high keening line that echoes his opening statement before bringing the volume down for a restatement of the theme. If certain performances of "Red Clay" leave one with the impression that Hubbard had given his all and could not possibly play more, "Straight Life"'s insistent groove and the fade-out insist that he could keep playing all day.
Weldon Irvine's "Mr. Clean" follows. A grimier funk workout that sees the bass clinging to the tonic like a life raft, the horns call to mind a James Brown line before Freddie makes like Miles with a high lonesome call, as George Benson and Herbie Hancock trade licks beneath. Joe Henderson's solo explores the tonality of the theme in an abstract workout as the band digs deeper into the groove. Van Gelder's engineering here is amazing as the bass seems to deepen the further out Henderson goes, followed by Hancock, who innovates both in rhythm and in tonality. Hancock's solo continues after Henderson drops back, continuing to echo into outer space yet still rooted in the groove. Benson's solo is similarly deep, bridging over from soul to funk to abstraction in the same breath. Throughout the rhythm section of DeJohnette and Carter stay locked into the groove.
For the final track, a rendition of the Jimmy Van Heusen and Johnny Burke standard "Here's That Rainy Day," Freddie switches to the flugelhorn. In a 1973 interview, he noted that he had been playing the more mellow cousin of the trumpet for "about three or four years" (though his earliest recording credit on the instrument came on 1967's Backlash). He claimed in the interview, "Now I can play it better than the trumpet, because it's so much easier to play." The creamy tone of his flugelhorn became one of Freddie's signature sounds, and here it is put to superb use in a stripped down setting, recording the ballad with sensitive accompaniment from Benson on the guitar, for an effect that is reminiscent of "Why Was I Born?," the duet that Coltrane recorded with Kenny Burrell on their 1962 collaboration. Hubbard closes the track with a long coda that seems to float effortlessly and eternally.
This second Hubbard album on CTI established his role as a leader among the label's artists, and he would continue to record groundbreaking sets throughout the next few years. We'll hear another, very different one next time.
You can listen to the album here: