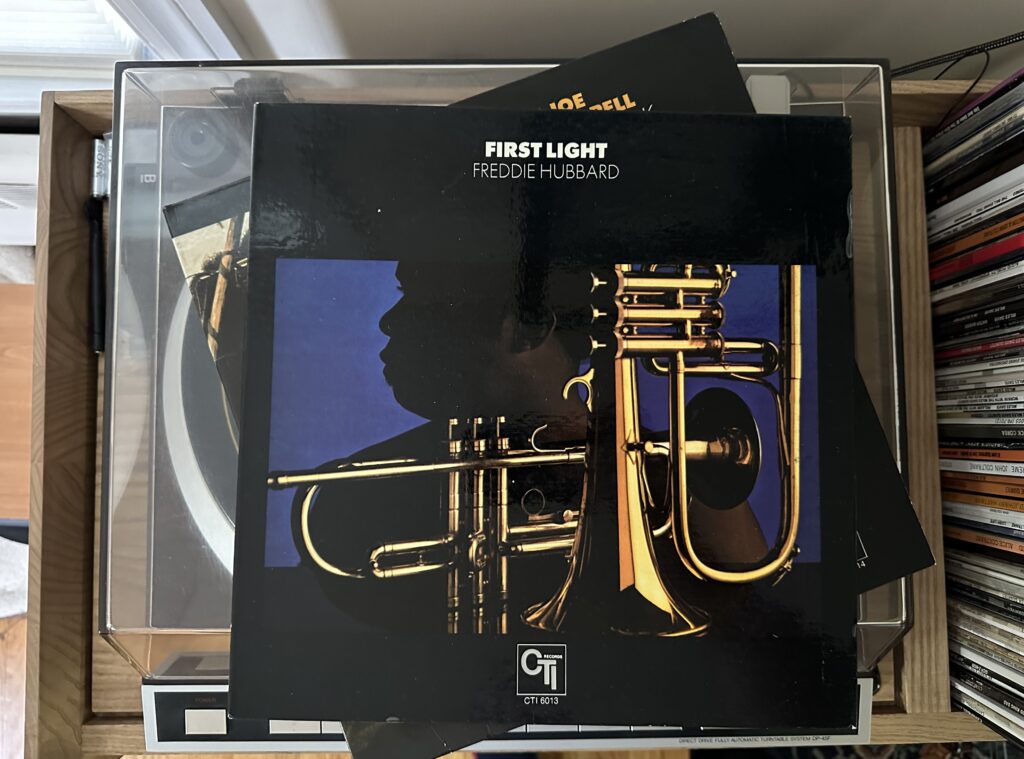 Album of the Week, May 13, 2023
In the first two Freddie Hubbard albums that we've heard in our exploration of the CTI Records discography, we've heard straight-ahead small group jazz, though colored with fusion and jazz-funk. On First Light, his third outing as leader for CTI, his works take on a little more of the colors of Creed Taylor's universe, with strings, pop music covers, classical arrangements, and casts of thousands, including Ron Carter, Hubert Laws, Jack DeJohnette, Herbie Hancock, Airto, George Benson, joined by Phil Kraus on vibes and a 20 piece orchestra. Throughout it all soars his serene trumpet and flugelhorn, marking this record as undeniably Freddie despite the new ingredients.
The title track is a classic Hubbard composition, with a floating minor-key melody played by the bandleader across a repeating funk accompaniment. Hubbard's form is without par throughout his solo, beginning with the achingly beautiful opening solo that precedes the first statement of the theme. Unusually for Hubbard, there is an interlude for Hubert Laws and strings in the middle of the first statement before Hubbard returns with the theme once more, then ventures into the solo proper. Here the motifs are more subtle than in some of his solos, featuring some extended passages played on a single note, one stretching as far as 16 bars and punctuated by a sting from the orchestra, which otherwise supports the sound without calling attention to itself. George Benson and Hubert Laws also have solo moments, but for the most part this one is all Freddie, and it fades out the last closing vamp of the music.
What comes back in is unexpected. Unlike the rest of the CTI stable, Hubbard had not really played much contemporary pop music on record, which makes his introductory notes to "Uncle Albert/Admiral Halsey" even more startling. The Paul and Linda McCartney single made its first chart appearance on August 2, 1971, a mere six weeks before Hubbard entered the studio to record First Light, so this may have felt to the trumpeter like striking while the iron was hot. The work, legendarily cobbled together from three different proto-songs, is here played in three different styles: a pure ballad for the opening "we're so sorry, Uncle Albert," a funk-jazz voice on "Admiral Halsey notified me," and an ecstatically free take on "hands across the water." Throughout it all Hubbard and his band are foregrounded, with the orchestra adding only spots of color throughout. There are so many quotable moments throughout the arrangement, including Ron Carter's mic-dropping solo halfway through as the rest of the orchestra falls away (later sampled by the Beastie Boys for 1992's "Professor Booty"!). It's an exciting and thoughtful arrangement, as striking today as it must have been in 1971.
"Moment to Moment," a quieter ballad by Henry Mancini and Johnny Mercer, opens with a pensive dialog between Ron Carter's bass and Hubert Laws' flute, underscored by the string section. Hubbard plays the melody straight, but here the real star is Sebesky's sensitive orchestration. He may have been notorious for working so fast that his scores were sometimes as unreadable as a physician's handwriting, but at his peak there was no one better, as this track shows.
"Yesterday's Dreams" continues with the orchestra taking a more prominent role, as Hubbard, here playing a muted trumpet, states the melody of one of the few tracks credited to Sebesky as co-composer. Ron Carter's bass is a prominent heartbeat throughout, with Herbie Hancock's Fender Rhodes adding a plaintive note. Hubert Laws and the woodwinds in the orchestra call to each other under the last bit of Hubbard's solo, with Carter adding portamento to his bass obbligato as the track fades.
"Lonely Town" is an unexpected conclusion to the album, with the woodwinds and strings stating the melody of the Leonard Bernstein show tune, then suddenly giving way to Herbie and Ron Carter laying down a groove under Hubbard's flugelhorn, accompanied only by the lightest of cymbal work from DeJohnette. The second verse picks up steam and features a magnificent bit of improvisation from Hubbard with imaginative underpinnings by Herbie and Carter. At the end the orchestra has the final word, closing out the track with notes of pensiveness and hope.
Hubbard's work on First Light shows the trumpeter evolving and growing, and gaining a new audience in the process. The trilogy of albums we've listened to so far, beginning with Red Clay and continuing with Straight Life, is brought to a natural conclusion here, with all facets of the trumpeter represented. While Hubbard would continue to record for CTI, this three-album stretch is arguably unequalled in his discography for excellence and range. We'll listen to some of those later performances soon, but next week we'll check in with another CTI veteran as he journeys into less-traveled realms.
You can listen to the album here: