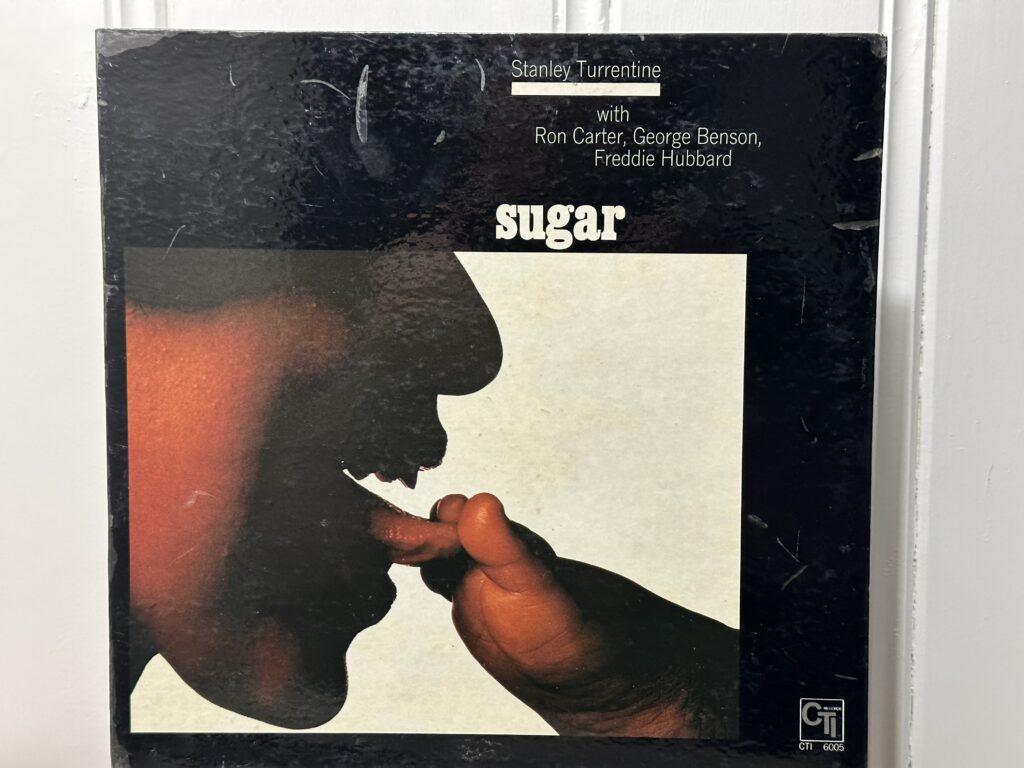 Album of the Week, April 22, 2023
Creed Taylor, and CTI Records, had a way of changing the way that musicians approached the world. We've seen how Antônio Carlos Jobim and Wes Montgomery transitioned to something like instrumental pop, and how Freddie Hubbard went from a post-bop young lion to something like a John the Baptist of jazz-funk. Today we'll meet another young player whose trajectory followed a very similar path to Hubbard's. He left behind a conventional recording career with Blue Note to become something like a sex symbol.
When I first started listening to jazz, I was conscious of the "smooth jazz" phenomenon. While there was a whole lot of Kenny G about it, smooth jazz could also manifest as "quiet storm," a name bestowed by a Washington, DC area DJ. This sub-genre blended jazz and easy listening into a broth that seemed to be designed for playing late at night, with the lights low and someone with a Barry White voice murmuring unspeakably sexy things.
Anyway. The point is that, by that date, some 25 years after Stanley Turrentine released Sugar as the sixth release on the new CTI Records label, you probably knew him as a smooth jazz, or even quiet storm, artist. But if you listened to his output through the 1960s on Blue Note Records, there was none of that in his sound. Sugar, recorded as his first date as a leader after leaving Blue Note, is where it all began—not least of which in the album cover.
It must be said that neither of the individuals on the cover of Sugar is Stanley Turrentine. It must also, in fairness, be said that there is very little of the licentiousness suggested by the cover present in the music. But the association of Turrentine with something incredibly sexy was begun with this cover, and it stuck.
Let's talk about the music now (for heaven's sake), because it's profoundly different from what the cover would suggest. Far from a smooth jazz sound, it is a heck of a combo that assembles at Englewood Cliffs in November 1970: Freddie Hubbard on trumpet, Butch Cornell on organ, George Benson on guitar; the redoubtable Ron Carter on bass; and Billy Kaye on drums and "Pablo" Landrum on congas. The great Lonnie Liston Smith plays electric piano on the title track, replacing Cornell.
There are just three tracks on the album. "Sugar" is a slow blues that's delivered in an understated way by all but Kaye, who uses the lower end of the drum kit to great effect on the opening to set up a dramatic foil. Benson, who will appear again in this series, lays back behind Turrentine's opening solo, commenting and providing counterpoint, slowly bringing his part up into a coequal voice. Van Gelder and Taylor get the stereo separation just right, situating him in the right channel so that you can close your eyes and see the interplay between the two musicians. Turrentine's solo is heavily influenced by soul jazz here, with riffs that would not be out of place on one of Benson's recordings with "Brother" Jack McDuff. Hubbard arrives after the saxophonist finishes, with a relaxed opening that slowly turns up the heat until he fairly boils over. Benson's touch on the guitar brings some of the same soul-jazz experience to the track; he began his career at 21 recording with "Brother" Jack and Lonnie Liston Smith, and you can hear some of that sanctified groove in his approach, especially as the horns play in concert. Throughout, the rhythm section is in the pocket, delivering the asked-for groove.
"Sunshine Alley" is a Butch Cornell tune, and announces the organist's approach through a modal Hammond riff that shifts through three chord transitions into the relative major, a nifty trick that sets up a lengthy workout for the band as Turrentine lays back. In fact, for the first four minutes, you could be forgiven for mistaking the track for an organ trio performance. Benson's arrival does little to diminish the overall impression, as he plays with an easy virtuosity that showcases why Miles tapped him for Miles in the Sky. Hubbard follows with a blistering solo that demonstrates multiple timbres, new harmonic sequences that lurk unimagined in the deceptively complicated blues, and generally remind one that this was recorded in the same calendar year as Red Clay. Turrentine finally steps up for a solo, at seven minutes and 55 seconds into this ten-minute long track, and opens the track up harmonically and rhythmically while still playing into the groove. He plays not so much with greater virtuosity as with greater heat, bringing the bubbling congas up to the fore and generally reclaiming the track as his own before bringing it to a close.
It might raise an eyebrow to note John Coltrane's "Impressions" on this album and with these players. It's no sloughed-off performance, either. Cornell gives it a fierce fanfare on the Hammond, and the band states the famous theme in a slightly swung time, putting their own stamp on the great Trane original. Turrentine takes the first solo and plays over six choruses, in what amounts to a virtuosic demonstration of the church-shouting power of his soul jazz formulation. His solo slips into different tempi and performance styles, in the transition between the second and third choruses echoing Trane's "sheets of sound," then sixteen bars later slipping in a quick quote from "It Ain't Necessarily So" before bending the time as if about to take flight. But the most impressive thing about the solo is the deliberate groundedness of it all. Turrentine is not going to disappear into the overblown harmonics that Trane (or his disciple Pharoah Sanders) would bring to performances of this tune, but he's also not going to let you think of him as merely a soul player. The next few choruses, led by Cornell, similarly play with expectations, going from a straight organ trio to a complex set of call-and-response shouts with the horns and back into the organ. When Hubbard takes the next solo, it's to throw in some casually brilliant triple-tongued moments of excitement that seem to pick up the music and shift it into a different realm for a quick moment. Benson's solo picks up some of the rhythmic shifts that Hubbard introduces and lands a few of his own, dropping in a polyrhythmic syncopated pattern that bends the time. The horns introduce a countermelody at the top of the next chorus that was clearly written out but in context feels slyly thrown in as though to say, there is more than one definitive reading of this tune. The overall effect, when considering Trane's performance of his early magnum opus, is happily dislocating, as though one had showed up at a Ramones concert only to find them playing Bach fugues instead. Turrentine does us the favor of explicitly illustrating the deep connection between the elder saxophonist's flights of spiritual ecstasy and the deceptively approachable soul and blues traditions from which they sprouted.
Turrentine's first album as a leader for CTI was the beginning of two features of the rest of the label's discography: a series of highly regarded sets as leader, and a working partnership with Freddie Hubbard that saw both of them appearing on each other's recordings throughout the rest of the 1970s. We'll hear from Turrentine again in this column. But first, we'll return to the more crossover-focused side of the roster and hear from another significant player in the label's evolution.
You can listen to the album here: