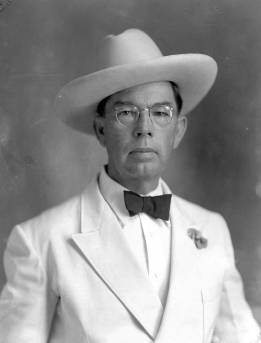 Thanks to Tyler, I'm spending the morning listening to archival folk music recordings and grinning from ear to ear.
I've written about cousin Bascom Lamar Lunsford before. In the years since the CD reissue of the Anthology of American Folk Music, which features several of his songs, quite a few folk artists have approached his tunes anew, with varying levels of success (check out Frank Fairfield's version of "I Wish I Was a Mole in the Ground"). But nothing's like the real thing.
So I was thrilled to get a link from Tyler on Facebook pointing me to the digital archives at Berea College with a collection of forty-two Bascom Lamar Lunsford archival recordings, plus a few large group songs and a newsreel, available for free listening and download. The quality of the recordings, made for Columbia University in 1935 and archived by Berea, isn't great — there's reel-to-reel noise on most of them, and the otherwise revelatory performance of "Mole in the Ground" is marred by uneven recording or playback, leading the pitch to wander all over. But hey–free Bascom Lamar Lunsford! Go listen!
More reading: a Bascom Lamar Lunsford/University of Virginia/Virginia Glee Club connection.
Listen: "Swannanoa Tunnel" by Bascom Lamar Lunsford from the Berea archive