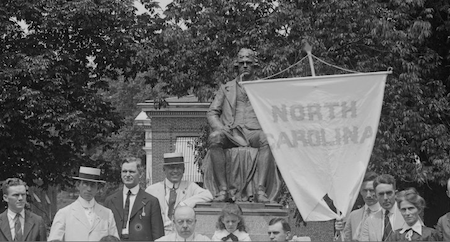 Last Saturday wasn't the best day in the Jarrett household. Having taught my four year old daughter to sing The Good Old Song, it was a disappointment to lose to Carolina, 28-17. But you have to have a long view in these things. The fight with Carolina is The South's Oldest Rivalry, after all, and in the long view we're only back four games (58 Carolina victories, 54 Virginia victories, and 4 ties).
Being a member of the Virginia Glee Club gives some unique perspective on the longevity of the rivalry. One of the songs on the most recent Glee Club CD, Songs of Virginia (available for purchase on Amazon! and on the Glee Club's site!), reflects the rivalry. "Oh, Carolina" is one of the few numbers on the disc that manages to be both edgy and funny at once:
See the Tar Heels, how they're running
Turpentine from every pore.
They can manufacture rosin,
But they'll never, never score.
While there's no good record to indicate how long the song has been around, it may date almost to the beginning of the rivalry. The author of the lyrics, William Roane Aylett, Jr., graduated from the University in 1895 with his medical degree and was in his first autumn on Grounds in 1892 when the first match was played (Virginia won the first match that year in Charlottesville, Carolina the second in Atlanta). Eleven years later, the song was still in circulation, as evidenced by its presence in A. Frederick Wilson's collected Songs of the University of Virginia (published 1906). It also appears in a 1911 football program book along with other song texts. And after that, nothing until the Songs of Virginia recording.
There's no evidence that the song was ever performed in a Glee Club concert, for instance–though there would have been lots of opportunities. UNC was the Virginia Glee Club's oldest partner in its annual fall openings concerts (later "kickoff concerts"), with joint performances with the UNC Glee Club in 1953, 1954, 1955, 1956, and 1977 and with the UNC Women's Chorus in 1988 (from the records we have handy); none of the programs mention anything about the smell of turpentine.
But the song is handy as a reminder: not only did (do) UVa students take this hundred-plus-year rivalry with the Tar Heels seriously, they also sang about it. In the bleachers. At football games.
Say, maybe it's time to make up a song about the Hokies…