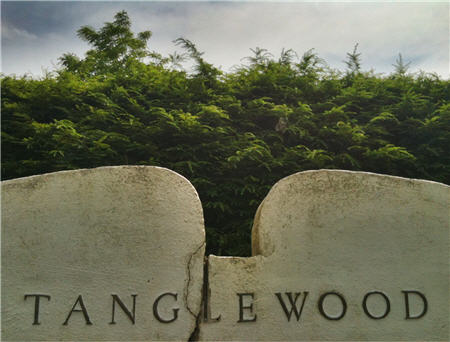 I've been indulging myself at Tanglewood this week for the TFC's opening weekend performance. I used to do several residencies a summer; with two young kids at home and a lot of other family vacation planned I'm limiting myself to one this year. It's been a worthwhile residency, despite the compression, because I've actually had time to sit and think and read and digest.
Our repertoire for the run has consisted of one old friend, the Berlioz Requiem (which I last sang over ten years ago with the Cathedral Choral Society–man, how time flies), and a new one, Bellini's Norma, from which we sang excerpts. The Bellini performance was last night as part of the opening night show. Musically the opera is not particularly complex, particularly compared to the Berlioz, but it has some beautiful moments, including of course the "Casta Diva" aria which we sang. (Opera newbie that I am, I didn't realize until this run what that aria was, though I heard it often, including in sampled excerpt at the beginning of Shannon Worrell's song "Witness.")
The Berlioz is a whole different matter, in ambition, scope, and energy required from the singer. For this run the most taxing thing about it has been forcing the Latin text into my brain. I have the music fairly well internalized but the texts are, as always for me, a different story. When I sang it at age 25 it was taxing for a completely different reason: I simply didn't know how to sing.
I'm envious of my friends in the chorus who have formal voice training. It took me about ten years of singing in amateur choruses to find the person who would set me on the road to vocal health–Christina Siemens. She finally taught me that sound is produced with the whole body and amplified through the facial mask, and that truly resonant vocal sound isn't forced. It's a lesson every singer should learn, that I hope Frank Albinder is teaching the current Virginia Glee Club, and that I learn over and over again under John Oliver's tutelage. I need that lesson for just about every minute of the Berlioz. While as a second tenor I don't have some of the most thrilling vocal lines of the work, there are plenty of cases where we're called upon to provide power and volume in a high range. As long as I remember the words it works, as I can keep the vocal production forward and resonant. If I have a brain cramp and forget part of the text, oddly, the instrument has trouble working too; the vocal production falls back in the mouth and suddenly everything's forced. It's literally easier to sing correctly. I hope I can remember that tonight for the actual performance.