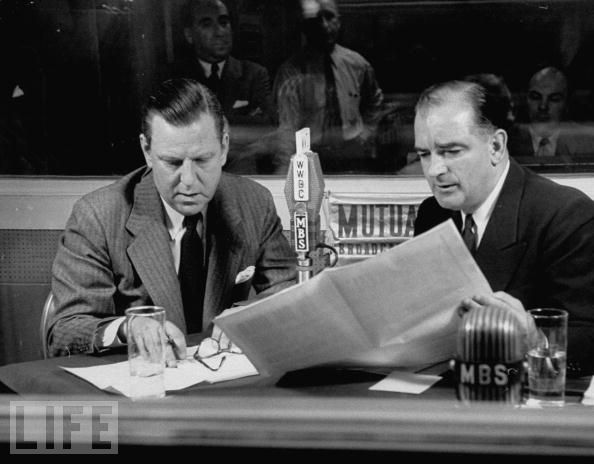 Today's odd moment in Virginia Glee Club history comes by way of that "other" official Virginia song, "The Cavalier Song." While most alums today are familiar only with "The Good Old Song," that collectively authored song-about-a-song set to the tune of "Auld Lang Syne" by Glee Club alum E.A. Craighill and sung by swaying Hoos at every touchdown, that song was never an official song of the University, though it has been the de facto alma mater since its introduction in 1895.
Instead, the University's two official songs were chosen through a contest sponsored by College Topics (now The Cavalier Daily) in 1923. Seeking official University songs, the contest netted "Virginia, Hail, All Hail!", by Glee Club alum John Albert Morrow, and "The Cavalier Song," by English instructor Lawrence Lee and Glee Club alum Fulton Lewis, Jr. While most alums are familiar with "Virginia, Hail, All Hail!" only, if at all, through Glee Club performances, "The Cavalier Song" has been played at Virginia sports events by the various bands (University Band, Pep Band, Cavalier Marching Band) during the school's history since its introduction. Because it's typically performed as an instrumental, its lyrics have faded into obscurity, meaning that it is Fulton Lewis Jr.'s tune that we know best about the song.
It's perhaps ironic that Lewis's contribution to the University has been so long lasting, since many of his other contributions to history were decidedly less cheery. Described as "an indifferent student," he left the University without a degree after three years and sought his fortune as a journalist, becoming a reporter and editor at the Washington Herald. After helping to unmask spy for Japan "Agent K" as Naval officer John Semer Farnsworth, he rose to fame as a conservative radio commentator, where at his peak he was syndicated on over 500 stations. As a commentator, he staked out a series of positions on the wrong side of history: against the New Deal and FDR, against America's entry into World War II, and in support of Barry Goldwater and Joe McCarthy–backing the latter even after his nationwide disgrace.
Lewis's ongoing support of McCarthy cost him his national audience, though he continued on the air until his death in 1966. He left behind him a noxious legacy and a reputation for subjective partisanship: the New Republic noted that his "wild charges were part of his campaign over many years to smear in every way possible the New Deal, the Fair Deal, and everybody not in accord with the most reactionary political beliefs"; the Washington Post memorialized him in 1987 as "one of the most unprincipled journalists ever to practice the trade"; and a profile on Salon calls him "a master of the partisan smear."  He called moderate Republicans, like Casper Weinberger, Communists. In many ways, then, he was ahead of his time.