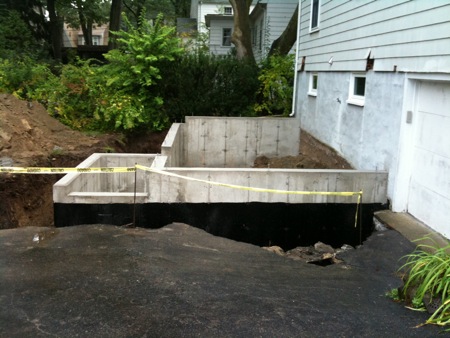 Our contractors were, as I noted before, busy last week, and you can see the results of their labor above. The foundation is poured and the waterproofing has been applied, and there's just another day or so of cure left before it's time to start framing. Their vigor has inspired me to take on some projects of my own. My office is closed but the rest of the family is busy (not all institutions give props to Columbus, I guess). So I've got a day to catch up on projects around the house.
Our front door, which had a supposedly troublefree finish, has had peeling paint on the inside since about a month after it was installed–apparently the guy, who no longer works for our contractor, didn't bother to prime before he put the finish coat. So that's project #1.
Then I have to do the next round of windowsill painting–time to do a little more winterizing. And about half the lawn (the half that's not under an enormous dirt pile) needs mowing.
After that? Well, I might honor Columbus Day in the traditional slothful way. If there's any day left, that is.