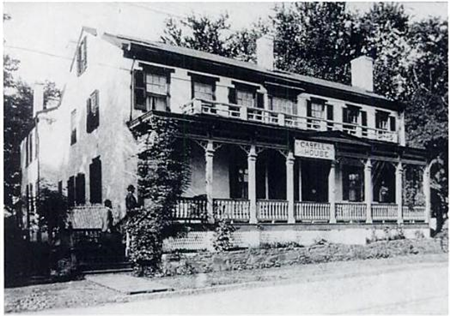 The standard biography of the Virginia Glee Club traces their formation to the creation of a glee club at the University of Virginia's "Cabell House," which the group's history calls the "Cabell House Men." Inspired by my visit to the University this weekend, I went digging to find where and what the Cabell House was.
Jefferson's original university design had 54 student rooms on the Lawn and a similar number on the East and West Ranges, holding somewhere between 150 and 200 students (assuming double residency for all the Lawn rooms except the Bachelor's Row). So the growth in University attendance from 128 in 1842-1843 to more than 600 in 1856-1857 (figures from Philip Bruce's History of the University of Virginia vol. III), combined with the lack of further dormitory space, led to a growth industry in Charlottesville boarding houses. One of these was the Brock Boarding House, later known as the Cabell House. Later called the "Stumble Inn," the two-story brick structure, located on the north side of West Main Street between 9th and 10th, was ultimately razed. Today the block hosts a handful of businesses and a book shop and overlooks the train station on the other side of West Main Street.
The Glee Club's formation wasn't the only brush with fame the Cabell House had, however; it was also infamous as the site where John Singleton Mosby, later famous as the Confederate raider known as the Gray Ghost, shot fellow University student George S. Turpin.