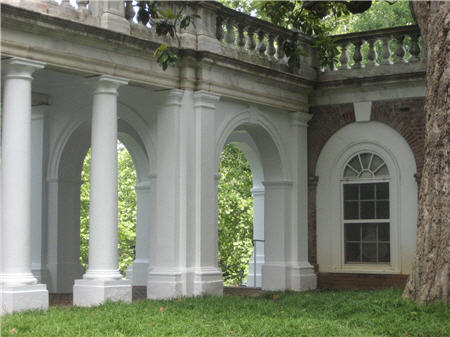 I returned yesterday from an extended weekend attending my 15th class reunion at the University of Virginia. It was a great weekend and I had a lot of fun, though not necessarily because of the reunion itself.
We started the weekend on a rocky note, driving through pouring rain through Connecticut and New York before it finally cleared away when we got to New Jersey. Lisa and I drove on solo the next morning and made it to Charlottesville about 3 pm. I had grand plans of catching up with a few folks in town but was exhausted by the drive and we punted, managing only to have a few drinks at Michael's Bistro and to get over to L'Etoile. Okay, so that wasn't such hardship. In fact, Friday was a pretty amazing date, the first we've had in quite a long time.
Saturday was a more structured day. This year I went in with the expectation that we would go to a few things that interested us and otherwise spend most of the day with friends. And it worked out that way, kind of. We did hear Julian Bond speak about the connection between civil rights, changing demographics, and the evolution of R&B and rock music–an unexpected but pleasurable discussion with an old professor, if not perhaps as consciousness raising as some of Bond's past lectures have been.
Then it was lunch, which was unpleasant. The Big Tent was raised over yesterday's muddy grass, our claustrophobia was in full swing, and we retreated to a stone planter near the Small Special Collections Library to eat our hot dogs (good) and hamburgers (overcooked). A slow stroll around Grounds followed, during which I snapped the majority of the photos from this trip. We sat in the Rotunda for a disappointing class panel, but the real unexpected jewel was sitting in the Shannon Garden along the west side of the Rotunda. Named for Edgar Shannon, who presided over the University during its most turbulent period since the Civil War during the 1960s and early 1970s, it was a fittingly tranquil place that I had walked past many times before but never appreciated until the weekend. (The picture above shows the colonnade that Stanford White added during the post-fire renovation of the Rotunda to create what became the Shannon Garden.)
The reunion part of the weekend was the least successful, primarily because the 15th reunion is not too well attended for a lot of folks, and partly because I didn't sign up for enough fun activities. (Lesson learned: will sign up for wine tasting next time.) But we had a great time catching up with Greg, Bernie, Anne and the other folks from the class that were there, and the reunion left me wanting to go back in five years and do it again–which I suppose is the goal of all good reunions.