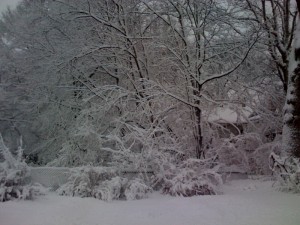 Winter sure came in with a roar. I didn't go to the office on Friday–we had pushed a new release of our software late Thursday night, and I knew that the storms this weekend were going to snarl up traffic Friday afternoon. So I used the snowblower on the driveway Saturday morning–we had about ten or eleven inches from Friday's snow–and drove into Boston on Saturday for back-to-back Boston Pops holiday concerts.
It wasn't too bad, since we were in Symphony Hall all day long, and while there was light snow falling all day there wasn't more than an additional inch of accumulation. The streets were slushy but negotiable. And Symphony Hall looks nice with snow accenting its features.
Then came Sunday. It was already snowing when I got up at 6 with our dogs, and it just kept coming down all day long. By the time it stopped, sometime between 6 and 9 pm, we had gotten another ten inches of snow on top of the ten or eleven that were already there. It was pretty, but pretty deadly too. I got so winded the third time I went out to shovel, in about 15° weather, that I started coughing uncontrollably and had to stop shoveling. Fortunately Lisa was able to clear the rest of the driveway–there had only been two additional inches since the last time I used the snowblower.
And today it's hard and bright and crisp and a balmy 23° F. Welcome to winter in New England. The days may be shorter but they feel a lot wider, as Charlie Brown once said.