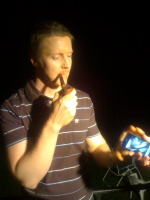 I had a bit of driving to do this weekend; I traveled from one Arlington to the other, from Massachusetts to Virginia, so that I could help Craig Fennell celebrate his impending nuptials. It was a great time, quite mellow as these things go. Lars Bjorn and his wife Erin were great hosts, and I got to spend time with quite a few folks I hadn't seen in years (Kevin Dixon, John Duncan, Ananth Kadambi, Ben Johnson, Dan Roche, and even Guido Peñaranda) as well as some folks I hadn't met (mostly the rest of Craig's bandmates in Wonderjack, as well as his brother and sister). It was a great evening, and my only regret was that I had to drive sixteen hours (eight each way) to be there for only sixteen hours.
(It's kind of funny that, even with gas at $4 a gallon, the car was still the cheapest way to go this weekend; $50 cheaper than Amtrak, $150 cheaper than JetBlue. I don't think that will be the case for too much longer, though.)
Anyway, it was a great time and there was much reminiscing. I wasn't in the VGs with Fennell, Dan, Ben, and Ananth, but had enough common experiences that we stayed up talking until late in the night about music. I'm looking forward to hearing the Imogene Heap cover that this year's VGs did–we all passed around Fennell's iPhone so we could hear parts of it, but I think it probably will sound better over speakers.