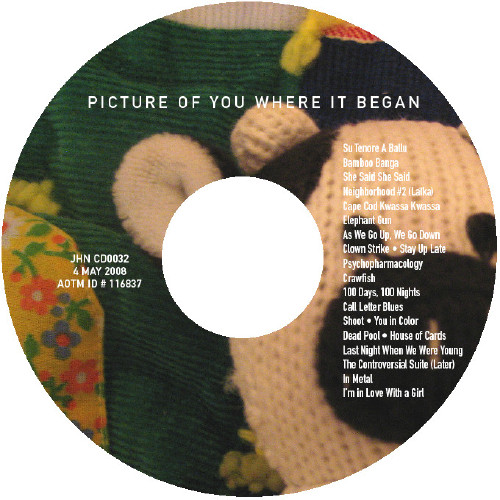 Inaugurating the new blog in style, here's my latest mix, which started as a party and ended as a lullaby. Of course, the Art of the Mix service is down right now, but here's a quick tracklist:
Italian men, "Su Tenore A Ballu" (field recording)
M.I.A., "Bamboo Banga"
The Beatles, "She Said She Said"
The Arcade Fire, "Neighborhood #2 (Laïka)"
Vampire Weekend, "Cape Cod Kwassa Kwassa"
Beirut, "Elephant Gun"
Guided by Voices, "As We Go Up, We Go Down"
Elvis Costello, "Clown Strike"
Talking Heads, "Stay Up Late"
Grandpaboy, "Psychopharmacology"
Elvis Presley, "Crawfish"
Sharon Jones and the Dap-Kings, "100 Days, 100 Nights"
Bob Dylan, "Call Letter Blues"
Sonic Youth, "Shoot"
Black Angels, "You in Color"
Mission of Burma, "Dead Pool"
Radiohead, "House of Cards"
Frank Sinatra, "Last Night When We Were Young"
Duke Ellington, "The Controversial Suite (Later)"
Low, "In Metal"
Big Star, "I'm In Love With a Girl"
Copies to the usual suspects on request; just leave a comment. (Man, it's been a long time since I've been able to say that!)
Update: Art of the Mix came back online sometime since I wrote this, so the mix is linked now.