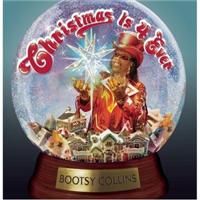 Christmas albums by popular artists face a pretty significant challenge: how to make the holiday canon, which ranges from medieval plainchant ("O come, o come, Emmanuel") to high classical music to Tin Pan Alley tunes and children's TV show theme music, sound like it belongs to the artist and not let the artist be overwhelmed by what can be a lot of schlock. There are three basic approaches to the challenge: go ultra-traditional with the arrangements, create a bunch of originals in the Christmas spirit, or just be yourself and damn the torpedoes. My latest favorite Christmas album, Bootsy Collins' Christmas is 4 Ever, takes the third path with a vengeance and ends up with one of the most fun Christmas albums I've listened to.
Bootsy, for the uninitiated (though that hardly seems possible), is the funky, funky bass player behind James Brown's late 60s output ("Sex Machine," "Super Bad,") and George Clinton's Parliament and Funkadelic (where he gained notoriety for his costumes—star-shaped sunglasses and thigh-high rhinestone studded space boots as well as his outer-space bass playing), and a pretty substantial run fronting his own combo, Bootsy's Rubber Band. This, in sum, is a man who could definitively answer Funkadelic's question, "What is soul?" So what, pray tell, is Bootsy doing facing down such white bread Christmas classics as "Jingle Bells," "Winter Wonderland," "Rudolph the Red Nosed Reindeer," and "Silent Night"?
As you might expect, Bootsy solves the clash of genres by throwing a party. And a pretty damned good party too. The arrangements on this collection are tight, with key contributions from fellow ex-PFunk stars Bernie Worrell, Garry Shider, and Fred Wesley (who arranges the tight horn charts that propel the most spectacular songs and is the other James Brown alum on the record), and an array of guest vocalists ranging from the traditional R&B styles of a bunch of folks whose names I didn't recognize to some rap contributions by Snoop Dogg. There are voice cameos from other friends of Bootsy, from Buckethead to George Clinton to the late Roger Troutman, bringing Christmas greetings.
And damned if it doesn't all hang together. The horns make it feel like a Parliament reunion, and there's a propulsive funk beat that runs through the whole album that makes one want to stand up and dance. (For this writer that's no mean thing.) But for me the standout moment is deep in "Silent Night," which may be the only time this holiday standard has grooved, where Bootsy answers the sung line "Sleep in heavenly peace" with a fervent "You and me, baby!" Aah, right on.
This post also at BlogCritics.